THE BIG IDEA
In recent times, demand for blue carbon projects has started to exceed supply. And this has made something abundantly clear:
Financial, social and technical uncertainty surrounding these projects needs addressing or we may not see the implementation of blue carbon as a viable natural climate solution for a while (NCS).
With this issue in mind, Macreadie et al. decided to act. And in May 2022, the team released a new paper -"Operationalizing marketable blue carbon"- which outlines a blue-carbon action plan.
Here's our quick rundown:
Results
The first step for this investigation involved gathering an amazing team of experts from fields like economics, mathematics, biogeochemistry, and marine biology. And with these experts, the researchers were able to compile an assortment of perspectives and opinions on the subject.
This allowed them to outline the various social, governance, economic and technical challenges present in the market.
And helped them construct an action plan to move the sector forward (partly outlined in Figure 1).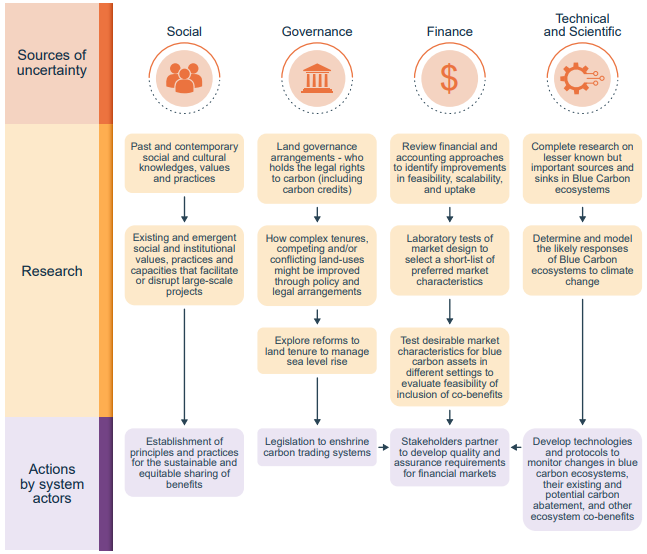 This action plan is comprehensive and explores many important themes. For example, on the subject of technological uncertainty, it reviews the need to innovate in order to improve the parametisation of blue carbon drawdown. And from a financial perspective, the article underscores the potential in stacking ecosystem service credits (like ''resilience credits'') to protect coastlines and unlock value.
In addition, to tackle governance uncertainty, the article highlights how clarifying land ownership and legal rights to carbon credits will be critical.
And finally, the paper suggests how the establishment of certain principles will help people overcome social uncertainty challenges including:
A lack of knowledge about how proposed activities align with community values, behaviours, and perceptions of risk,
What individual and collective capacities are required to facilitate sustainable change,
And the role of local and indigenous knowledge in blue carbon.
Overall…
This paper is a great starting point to learn about the problem and predict blue carbon's future direction. Furthermore, if you were looking for problems to address for your next innovation, I'd highly recommend giving this a read.