In today's report:
Fireside chat: Raffael Jovine from Brilliant Planet
Markets: Blue Ocean Barns lands a big ice cream deal
Chart: Global potential distribution of macroalgae
Epic: Satellites have detected methane emissions from belching cows at a California feedlot
Around the web: Wevolve Labs designs sculptural lights crafted from seaweed biomaterial skins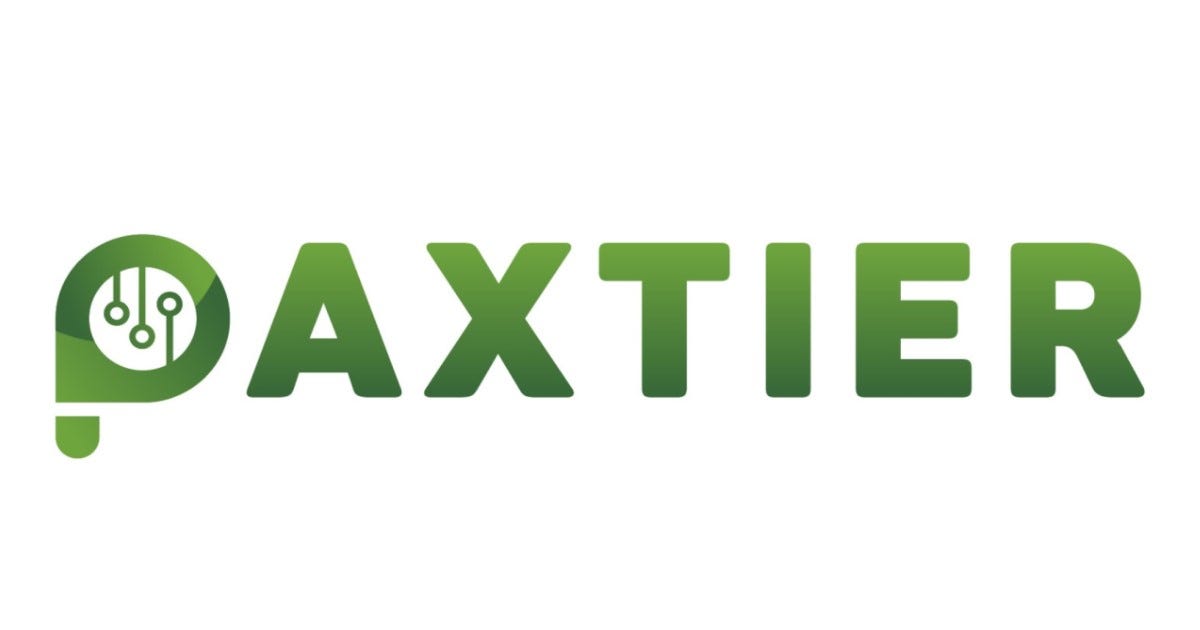 "When building in this space, it's important to foster a healthy level of scepticism, seek fundamentals, and carefully consider how your business will scale." — Phoebe Harrop, Blackbird VC
---
Dear algae technologists,
Hello and welcome to The Paxtier Report for Wednesday, May 11th 2022!
If you were searching for more innovative ways to promote your algae work, then look no further…
… Because this week, a new algae bloom study gained traction once people noticed it came with an unusual annotation… this poem: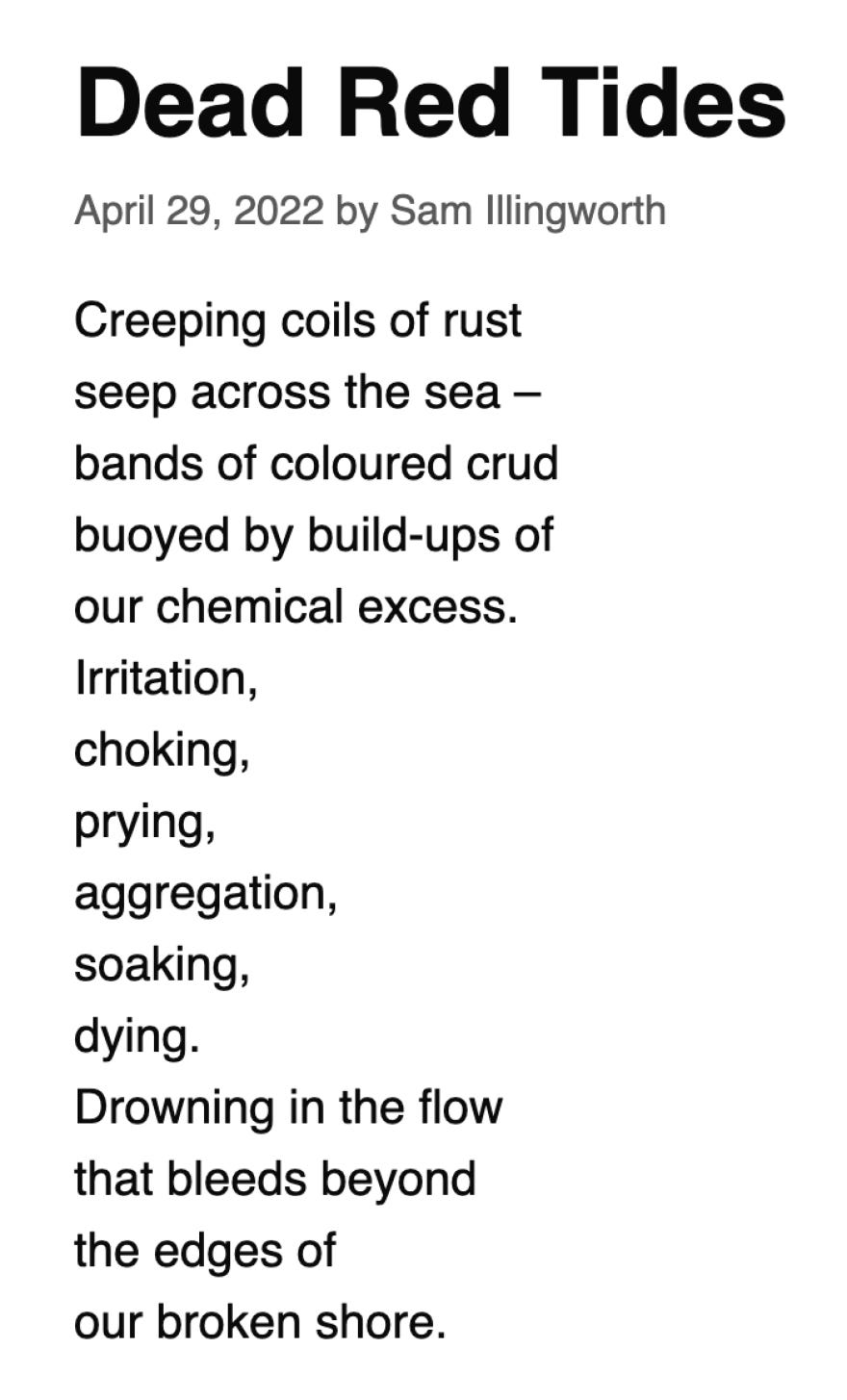 ---
Markets and Investing
This week, climate technologists were enthused by several big updates.
For example, highlights included Tomorrow Farms raising $8.5m for their food technology company, Apollo launching a massive sustainable investing platform, Pachama raising $55m and John Doerr dropping $1.1b on Stanford's new climate school.
🍦 Ice Cream Looks to Algae Tech
Ben & Jerry's may be renowned for its ice cream, but this week, the company's sustainability updates stole the show as customer's learned more about Project Mootopia, a pilot programme which seeks to significantly reduce the firm's carbon footprint.
How do they plan to reduce their footprint?
Ruminant no more: Use seaweed feed additives to reduce their dairy cattle methane emissions
Manure mahem: Implement manure digestors on their farms to capture methane and prevent algae blooms
Soil capture: Restore farm soil using regenerative agriculture to boost CO2 capture
Who's supplying the seaweed?
Blue Ocean Barns were declared algae supplement suppliers, after the California Department of Food and Agriculture authorised their request to commercially produce the cattle feed additive.
And it's not just Ben & Jerry's who are set to benefit. In fact, on May 9th Blue Ocean Barns stated that both The Straus Family Creamery and Clover Sonoma have also signed deals for their product.
Here's what Albert Straus, Founder and CEO of Straus Family Creamery had to say:
If we can get up to 90 percent reduction in methane emissions through feeding red seaweed to cows, this is a huge leap forward for us in creating a sustainable farming system that is beneficial to the planet and our communities. Red seaweed is the next critical step we need to reach our carbon-neutral farming model."
Algae Market Snippets
Some other big moves this week:
CH4 Global received a new Federal Government Grant of $3.8m to further advance development of asparagopsis production in South Australia. The grant will be used primarily to support the creation of two new hatcheries in the Eyre Penninsula, and will enable the development of a working seed stock which can be used on marine infrastructure or land based aquaculture facilities for harvesting and processing. (Source CH4global.com)
Sanuk released their new shoe, the "Pridewalk Surfer, which is a casual slip-on consisting of 20% BLOOM foam made from repurposed algae and hemp. (Source Sanuk.com)
Algalif gets in on the action: Algalif is an astaxanthin producing algae company which secured US$30 million investment in 2020. This week, they announced a new partnership with Marea to develop biodegradable food coatings from leftover algae biomass (Source Algalif.com).
Seaflour: IFF announced the U.S. launch of SEAFLOUR, a nutrient-dense hydrocolloid sourced from red seaweed which is useful for plant-based beverages. (Source IFF.com)
Collaboration: BASF and UC Berkeley have signed a five-year extension for their CARA collaboration, and algae research is set to benefit. Algae academics like Professor Steve Mayfield and Professor Mike Burkart have been supported by CARA in the past, and this update secures additional runway for their efforts to develop aliphatic isocyanates from algae biomass using phosgene-free flow chemistry. (Read more Here)
Non-profits: Puget Sound Restoration Fund announced Thursday that it is getting $1.7 million over three years from the Paul G. Allen Family Foundation for an expanded monitoring initiative for kelp forests. The program includes:

A pilot project to test the use of a swimming robot that can survey the kelp to monitor its condition as well as sample the water quality.
Training and deploying a network of local divers to survey the kelp and associated marine life, generating standardized data.
Expanding a small, existing kelp and water quality monitoring effort. (Source: restorationfund.org)
In depth with Peter Green
💬Community Fireside Chats: Raffael Jovine from Brilliant Planet
Dr. Raffael Jovine knows a thing or two about algae technology. After growing up in Bavaria and discovering his passion for science, he followed his curiosity to the United States, where he trained in Biophysics and Biochemistry at Yale University.
After his undergraduate degree, Raffael joined MIT in 1986 as a research staff member before undertaking further research positions at UC Santa Barbara and the Woods Hole Oceanographic Institution.
This period was followed by a stint in consulting and start-ups, which culminated in the co-founding of Brilliant Planet in 2013, a company sequestering CO2 using algae in coastal deserts.
Over the last 9 years, Brilliant Planet has managed to develop an ultra-low-carbon-footprint algae production system which involves maintaining algae blooms in low-cost ponds.
Thanks to their technology, CSO Raffael and CEO Adam Taylor hope to make a dent in the carbon capture space and contribute towards sequestration markets. To do this, the team will continue to harvest, dry and bury their algae in the desert, which offers the perfect conditions for long-term biomass storage.
As Raffael showed me around his laboratory in London, it was difficult to contain my excitement. From algae fluorescence studies, to fridges mimicking Moroccan desert conditions, this lab is brimming with awesome science, passion, and enthusiasm.
Here's a teaser from our recent chat, which covered Brilliant Planet technology, their next steps, and advice for algae technologists.
How much carbon could your Brilliant Planet ponds theoretically absorb, and what additional benefits can they provide?
With half a million square kilometres of pond-able sites, we could sequester two gigatons of carbon per year.

Alongside carbon capture, the construction of ponds in these regions helps create jobs, and deacidifies local seawater. For every unit of seawater we discharge, we restore about 5.1 units of seawater to pre-industrial levels.
What advice would you give to others starting out in this space?
Stay focussed. There are lots of distractions in this world, and lots of ways to lose sight of your core mission. Staying focussed can be much harder than it sounds.

Secondly, find patient financial support. For deep tech, this patient capital can make all the difference as you traverse regulatory barriers. Finding the right people who are willing to take this slower approach is important.
📝Research Paper Review: Global estimates of the extent and production of macroalgal forests
THE BIG IDEA
In this awesome piece, Duarte et al. create the first data-driven assessment of the global extent and production of macroalgal habitats.
The overall aim of this study was to assess the global role of this biome, and consider the potential for algal forests to support nature-based solutions for climate change mitigation.
Results
To investigate this, the team compiled net primary production (NPP) rates across macroalgal habitats from literature and combined this with estimates of the global extent of these habitats to calculate global macroalgal NPP.
Ultimately, the researchers conclude that the global macroalgal biome is comparable, in area and NPP, to the Amazon forest, but is globally distributed as a thin strip around shorelines. They also state that these forests should be seriously considered in future nature-based solution programs.
Chart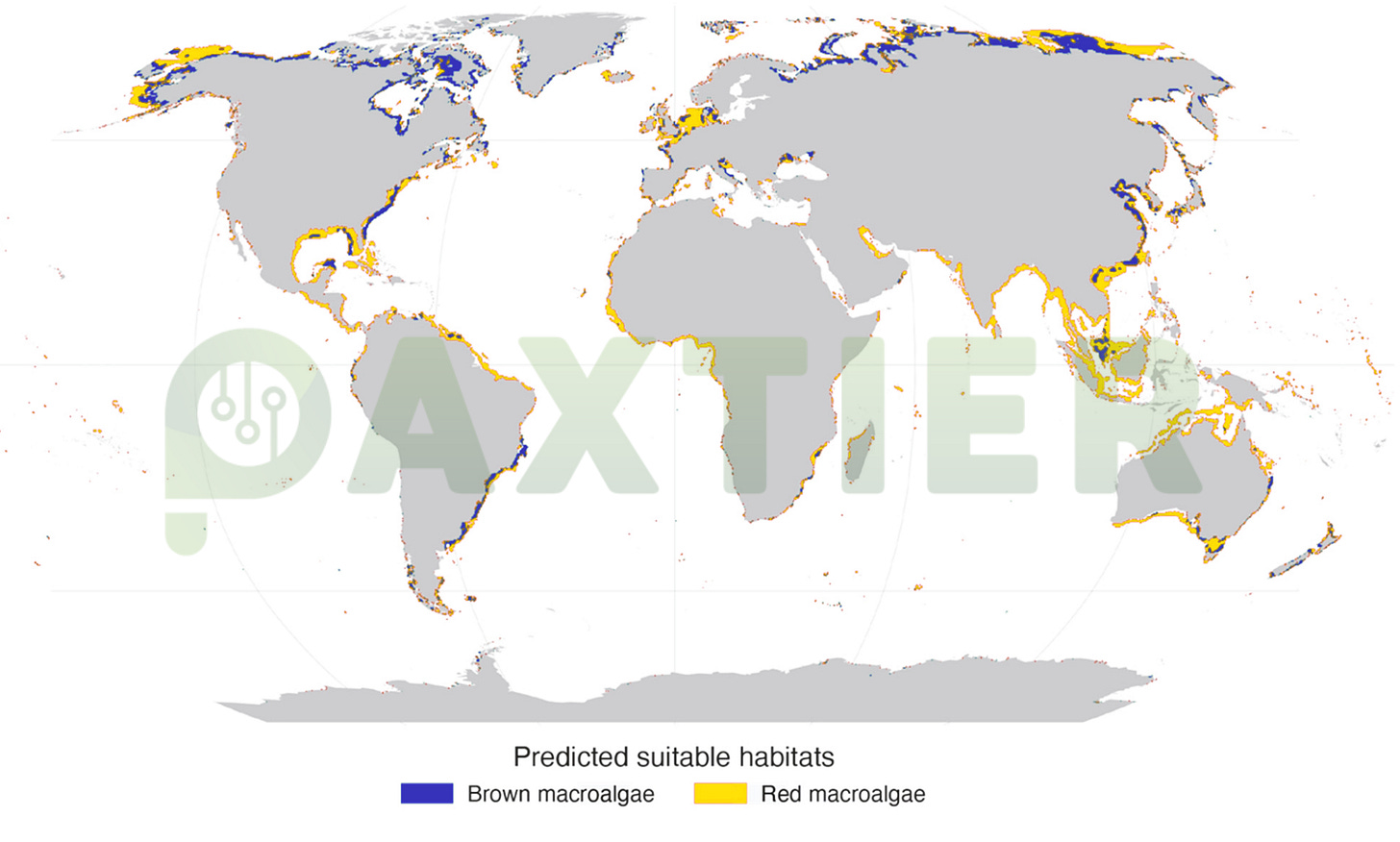 🔥 What else was hot in algae-tech this week?
MALAYSIA announces a new algae biotechnology consortium (ABC). (Read more HERE).
Satellites have detected methane emissions from belching cows at a California feedlot. It's the first time emissions from livestock could be measured from space. So, if you were looking for ways to visualise methane production, check out the environmental data firm who headed this up – GHGSat. (Source: Reuters)
(Paper) A team led by Fauser et al. has undertaken the largest ever functional genomic study of a photosynthetic organism (Chlamydomonas reinhardtii). Their work, published in Nature Genetics, could inform strategies for improving agricultural yields and mitigating climate change. (Source: Nature.com)
(Paper) Effects of shellfish and macro-algae IMTA in North China on the environment, inorganic carbon system, organic carbon system, and sea–air CO2 fluxes. (Frontiers in Marine Science)
The world's largest compilation of recycled paper and NextGen paper and packaging options — the EcoPaper Database — has just been updated and expanded (canopyplanet.org).
Wevolve Labs designs sculptural lights crafted from biomaterial skins. The skins' material is a bioplastic made from carrageenan, a seaweed extract. Wevolve Labs seaweed skins(Source: Dezeen).
The Czech startup Mewery claims to be the first European foodtech startup developing cultivated pork on a proprietary microalgae base. The Brno-based foodtech company has now received backing from US accelerator Big Idea Ventures to develop cultivated pork. (vegconomist.com)
🐦Tweets of the week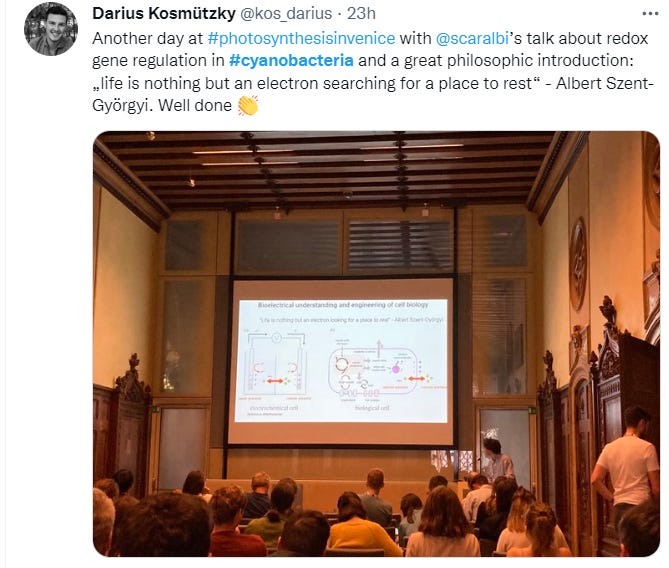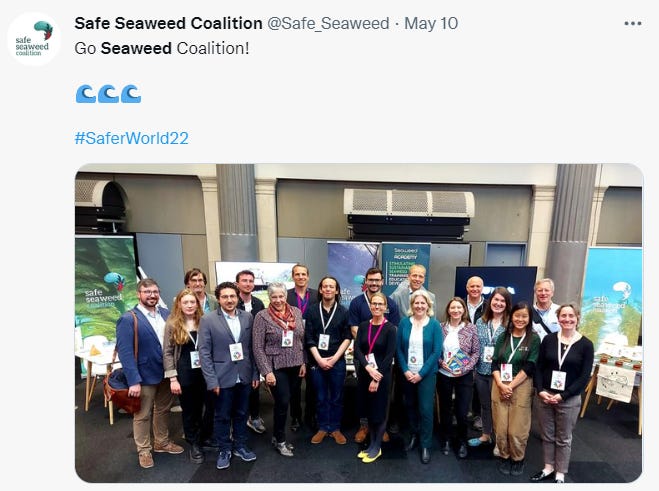 8. (Paper) Statistical optimization for simultaneous removal of methyl red and production of fatty acid methyl esters using fresh alga Scenedesmus obliquus (Nature.com)
9. (Paper) Researchers have identified a key mechanism involved with the setting of the circadian clock of cyanobacteria. A paper describing the findings appeared in the Proceedings of the National Academy of Sciences on 4th May, 2022.
Events Coming Soon
👋Seaweed Around The Clock
🌊 Blue Food Innovation Summit in London
Find out more here.
Jobs
Jobs this week included:
🌱 Investigation of Woesearchaeota ecology – Université Claude Bernard (location: France)
🌿 Provectus Algae hiring (location: Australia)
Find out more here.
That's all folks!
Thanks again for joining us this week. Hope you have a great day and stay tuned for more algae tech updates soon!
Peter