In today's report– Markets: SeaMark lands a whopping $9.4M
Chart: How does temperature disrupt seaweed cultivation?
Epic: The green gold at the end of the rainbow
Fireside chats: Engineering Chlamydomonas regulatory pathways with Kitty Clouston
Around the web: A look at 5G connected cameras monitoring kelp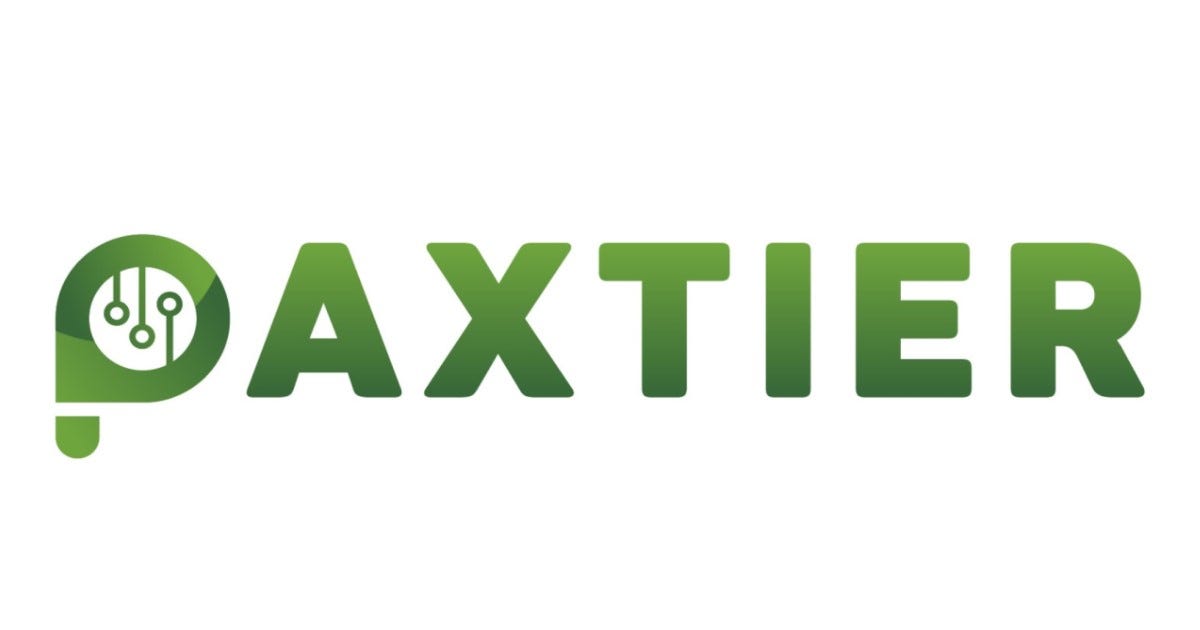 "Remember to surround yourself with good, supportive people and make sure to have some fun" — Dr María Santos-Merino, MSU
---
Dear algae technologists,
Hello and welcome to The Paxtier Report for the period 08/06/22 – 15/06/22!
Did you know that the Hunga Tonga–Hunga Haʻapai volcanic eruption on 15th January 2022 produced the largest atmospheric explosion in recorded history?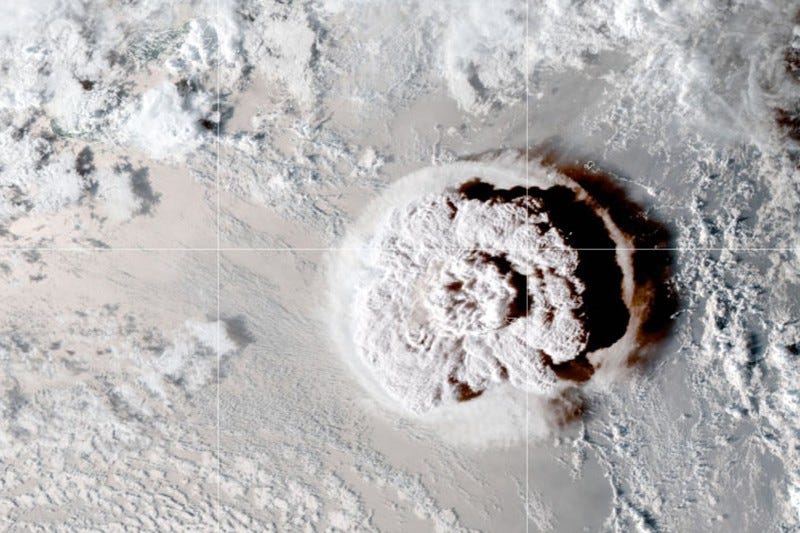 And despite the ensuing destruction, some folks did a bad job of containing their glee…
Namely, phytoplankton.
To see what I mean, check out this chart showing Chlorophyll a distribution in the HTHH region over the last 20 years.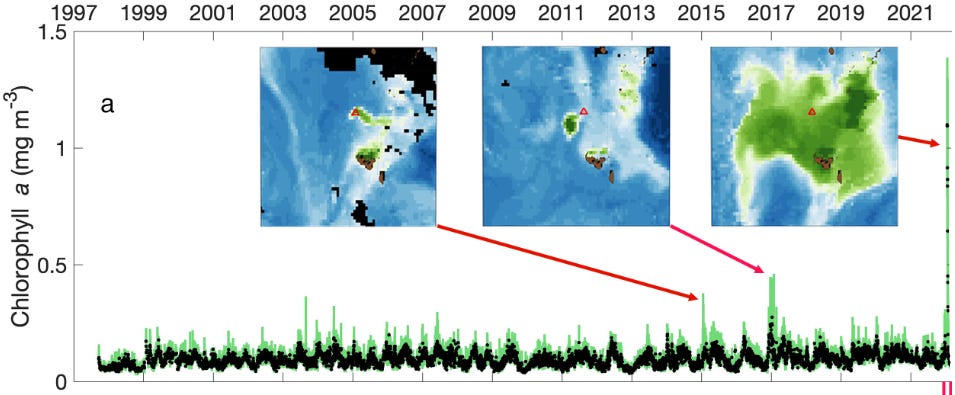 As you can see from the satellite data, a massive phytoplankton bloom took place during and after the eruption in 2022. This was caused by the volcano injecting an immense amount of fertilising nutrients into the water.
Read more HERE.
---
Markets and Investing
⭐ SeaMark lands a whopping $9.4M from the Horizon Tooth Fairy
This week, the SeaMark initiative dominated headlines as Horizon Europe handed the project US$9.4M.
And man are they on a mission.
With this funding, the team hopes to upscale circular ocean seaweed cultivation, land-based integrated multi-trophic aquaculture (IMTA) systems and develop several innovative seaweed-based products.
Who's involved in SeaMark and what's the plan?
SeaMark stands for Seaweed-Based Market Applications, and is led by the company Ocean Rainforest alongside 25 international, cross-disciplinary partners: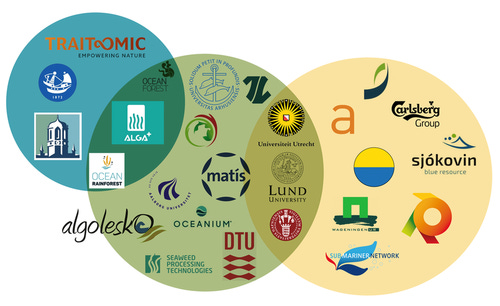 According to reports, the project hopes to lay strong foundations for the growing European seaweed industry by focusing on the following themes:
Selective breeding, Cultivation, harvesting & pre-processing,
Biorefinery processing for bioactives, fibers & biomaterials,
Health promoting effects of fermented seaweed,
Co-extraction towards commodity & speciality ingredients,
Product application development,
Go-to-market strategies for products,
Techno-economic & socio-economic assessments,
Ecosystem Services & Life Cycle Assessment, and
Stakeholder outreach, training & strategic development.
Ultimately…
The team plans to develop 12 seaweed products (e.g bio-packaging materials, alternative proteins, and animal feeds) based mainly on cultivated sugar kelp (Saccharina latissima).
And some of the partner firms like "Fermentationexperts AS" are particularly bullish. For example, as the largest user of seaweed for animal feed in Europe, this company hopes the initiative will help increase its seaweed usage by 10x over the next 5 years. What's more, on the human nutrition point of view, the company also plans to use SeaMark to develop several novel food products which are currently in their R&D pipeline.
But the real beauty in this collaboration is the overarching ambition. Because with some luck and a lot of hard work, the initiative could contribute significantly to the development of more resilient food systems in Europe, decrease our reliance on products made from fossil fuels, and helps us reach several United Nations Sustainable Development Goals (3, 8, 9, 12, 13 & 14).
✂️Algae Market Snippets
Some other big moves this week:
In depth with Peter Green
💬 Community Fireside Chats: Kitty Clouston
Kitty Clouston is a research scientist interested in how we can engineer and apply biology to make industrial processes more sustainable.
After graduating from Imperial College in Biochemistry, she completed a research masters in the Plant Metabolism group at Cambridge University, and has since been involved in characterising new synthetic biology tools for microalgae in the Alison Smith lab.
Here's a teaser from our recent chat, which covered Kitty's microalgal journey, and advice for fellow researchers.
What did you get up to for your MSc?
For my Masters, I investigated several regulatory circuits in Chlamydomonas, and explored the role certain transgenes can play when producing valuable industrial chemicals.

To do this, I spent time engineering the chloroplast genome, which has certain benefits over modifying the nuclear genome. For example, if you're trying to integrate a transgene in the nucleus, homologous recombination makes it harder to control where the gene ends up.

But when modifying the chloroplast genome, you can design your transgene cassette to integrate at a very specific location.
What advice would you give to yourself just starting out in this space?
Things take time, particularly when you're working with algae. And learning to slowdown was a really valuable lesson.

For example, by slowing down you can carefully consider how to design your experiments, which can save a whole lot of time down the line.

And when it comes to general advice, just remember that it's not all about brains. Being a good scientist involves mastering a lot of other skills like planning, communicating, and managing time.
📝Research Rundown: Making out Mozuku…
THE BIG IDEA
Can a simple PCR test improve the cultivation of seaweed?
Nishitsuji et al. sure think so, as outlined in their new paper presented in the journal of Phycological Research.
This scientific article describes how a PCR test helped identify nine genes in Okinawa mozuku algae which reveal the organism's lifecycle stage, and sex.
Why does this matter?
Okinawa mozuku (Cladosiphon okamuranus) is a big part of the Japanese diet and every year around 15,000 to 20,000 tons of the seaweed is collected by local farmers.
But these seaweed farmers are under constant pressure as mozuku seeds fail to bud, plants detach themselves from lines, and rising ocean temperatures stunt the organism's growth.
Dr. Koki Nishitsuji, a staff scientist in OIST's Marine Genomics Unit said this about the problem:
In 2010, the mozuku yield fell to less than half the level of a typical year (see chart below), which is thought to be due to an unusually warm winter. As climate change occurs, the frequency of warmer winters could increase, so new heat-resilient strains are needed.
📉Chart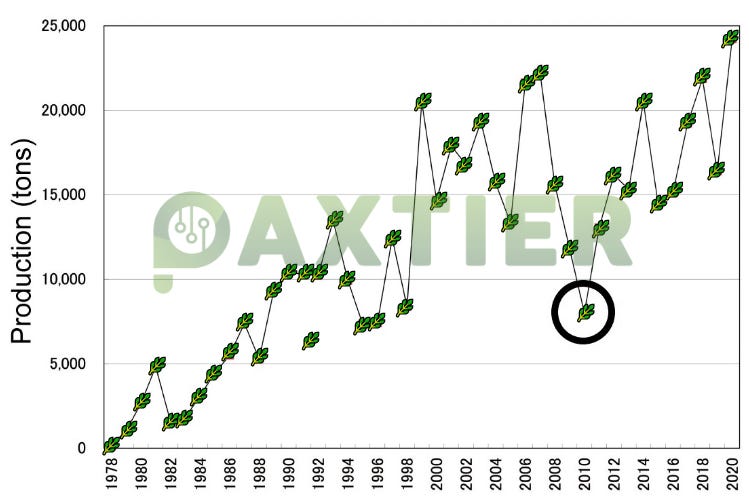 But these researchers have found a potential solution:
A simple PCR test.
Results
When cultivating mozuku, it's important to note that only diploid germlings develop into the edible mature produce that the farmers want to harvest. But until now, differentiating between diploid and haploid germlings was somewhat difficult.
So, this is what Nishitsuji et al. set about fixing.
To do this, the team performed RNA-seq analysis of haploid germlings of C. okamuranus. And they identified 269 genes which are expressed specifically in male or female haploids. BLAST analysis with Ectocarpus siliculosus gene models then revealed that nine of 269 genes were putative sex determination-related genes of C. okamuranus. Thus, a unique set of polymerase chain reaction primers for these nine genes was designed.
The result?
A toolkit to identify and separate diploid germlings from haploid germlings, which can be used to increase crop productivity, allow the crossbreeding of organisms to create heat-tolerant strains, and permit the development of novel mozuku strains that attach more firmly to nets.
What's particularly exciting about this work is that the sex-determining marker genes identified in this study are likely to be similar for other brown algae, like Undaria pinnatifida (wakame in Japanese) and Saccharina japonica (kombu), which are also economically important crops.
🔥 What else was hot in algae-tech this week?
🐦Tweet of the week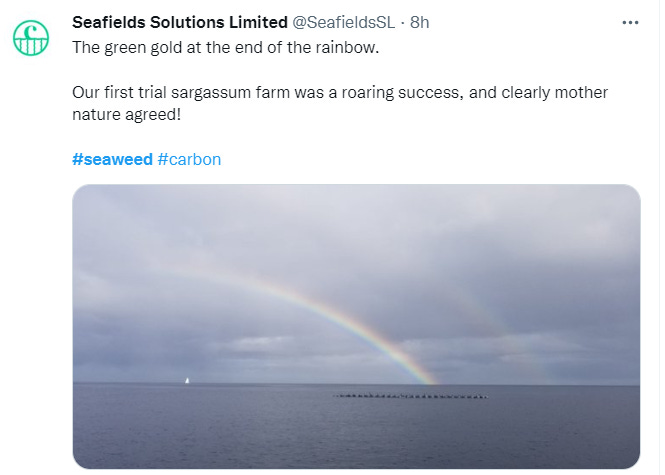 That's all folks!
Thanks again for joining us this week. Hope you have a great day and stay tuned for more algae tech updates soon!
Peter