In today's report – Markets: Who's Mixing Robotics with Seaweed?
Epic: Getting Blue Carbon Grooving
Fireside chats: Brian Timmer
Around the web: Irish foodtech startup Sea and Believe has secured commitments for half of the $3 million sum it is planning to raise.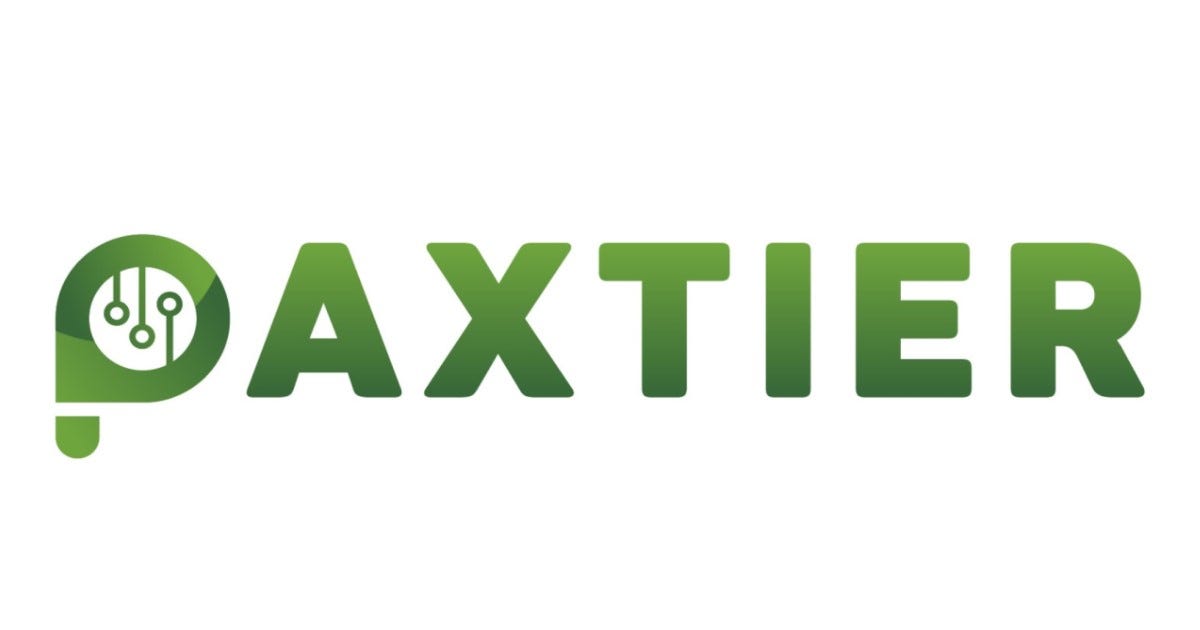 "Learn what curiosity feels like in your body. Then learn how to pursue the thing that sparks your curiosity." — Imche Fourie, Outset Ventures
---
Dear algae technologists,
Hello and welcome to The Paxtier Report for Wednesday, June 1st 2022!
This week, seagrass stole the show as a new paper by Edgeloe et al. documented the discovery of the biggest plant anywhere on Earth.
The species – Posidonia australis – covers about 200 sq km, and expanded from a single, colonising seedling. The researchers estimate the plant needed at least 4,500 years to spread as much as it has.
---
Markets and Investing
⭐ Who's Mixing Robotics with Seaweed
U.S. Energy Secretary Jennifer Granholm announced this week that C.A. Goudey & Associates will receive $199,424 in funding for their collab with RISE™Robotics.
With this funding, the team hopes to extract and use wave energy from Variable Displacement Spar Buoys (VDSB) for their innovative seaweed farming system (see Figure 1).
Who are the players in this collab?
C.A. Goudey & Associates develop farm systems and mechanisation for the seaweed industry. The company also builds innovative structures that enable scaled deployment and harvesting of kelp farms in open ocean environments.
RISE™Robotics was founded in 2011 by graduates of Massachusetts Institute of Technology (MIT) and Rhode Island School of Design (RISD). The organisation partners with manufacturers of industrial equipment to help them build better machines.
What's the plan for this tech?
Here's what Engineer Clifford Goudey had to say:
Offshore seaweed farms have great potential in our nation's food and energy future but power is needed out there to monitor the crop and maintain communications back to shore. Tapping wave energy is a great way of generating that needed power.
The plan is to evaluate RISE™Cylinder technology to efficiently capture wave energy to power the system. The Cylinder is a fluid-free, electromechanical alternative to hydraulic cylinders and will look something like this: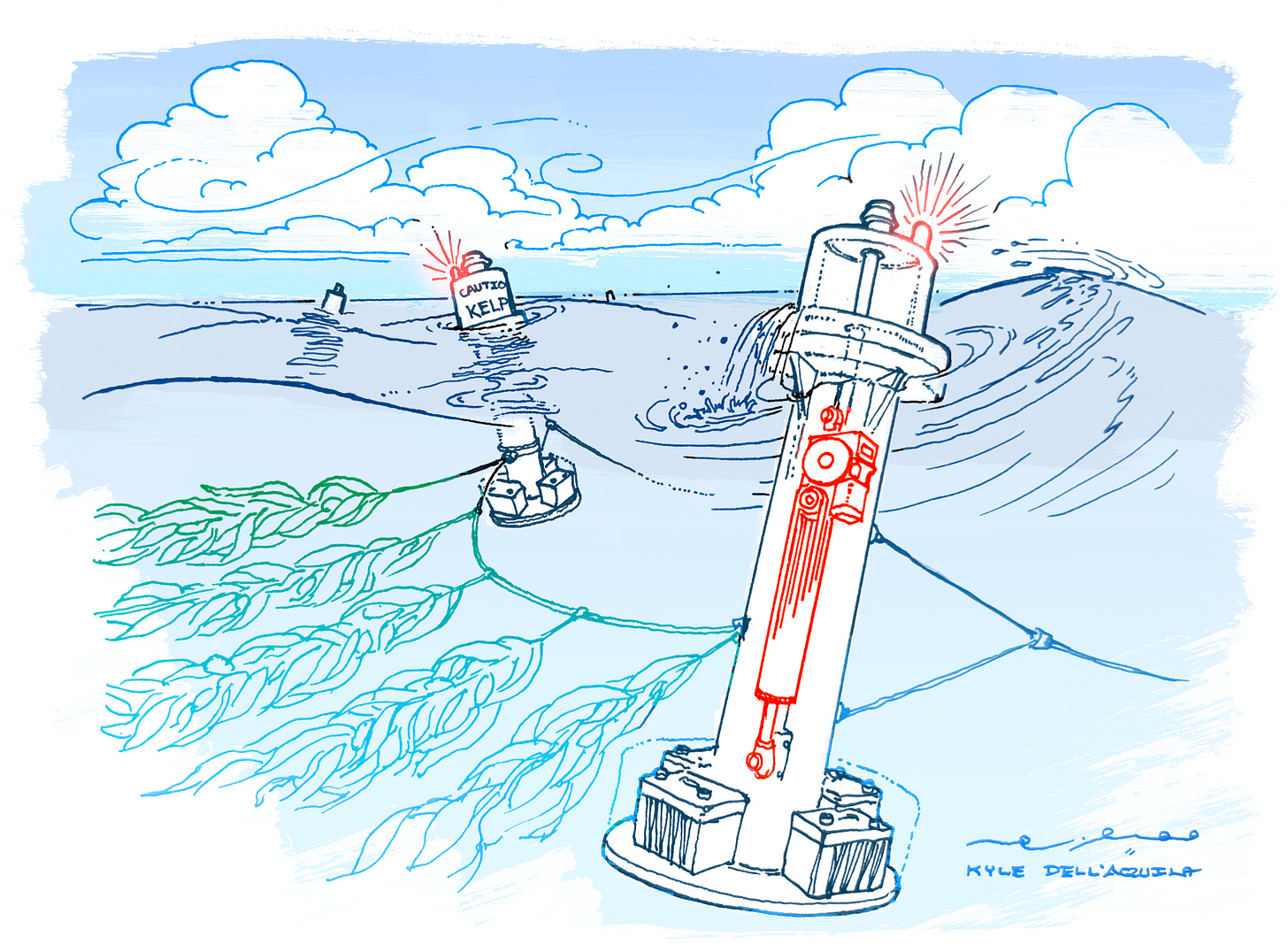 ✂️Algae Market Snippets
Some other big moves this week:
In depth with Peter Green
💬 Community Fireside Chats: Brian Timmer
Brian Timmer is a SCUBA instructor and biologist using historical ecology and modern technology to study the effects of climate change on temperate seaweed communities.
Currently based on Vancouver Island, Brian's MSc involved remote sensing of kelp forests, and he's recently been assisting the Baum lab with kelp field work.
His next adventure in the world of seaweed will start in Autumn 2022, when he begins his PhD investigating changes to seaweed phenology and distribution in the Salish Sea over the past 50 years for his PhD.
Here's a teaser from our recent chat, which covered Brian's journey so far, his plans for the future, and advice for others in this space.
How did you get involved in the world of kelp?
After training as a scuba instructor and working all over the world, I ended up moving to Vancouver Island – and I was blown away by the beauty of the diving here.

During that early period, one of my favourite underwater activities involved sitting amongst the bull kelp, looking-up at the canopy, and watching the sunlight shine through the forest.

Unfortunately, during the first year of my undergraduate degree, a big marine heatwave called "The Blob" took place. And this contributed towards the decline of kelp forests in the region, which I witnessed first-hand.

Soon after, I decided to participate in a kelp forest restoration project, which ultimately led to me doing my MSc in kelp remote sensing.
What will you be doing for your PhD?
About a year ago, I came across the work of a university professor who had taken multiple intertidal aerial photographs around Victoria during the 1960's and 1970's.

Following some further investigation, we were able to locate all of these plots around Victoria and have been resurveying them ever since.

With this data, we'll be able to make some amazing comparisons and see how the seaweed population has changed over the last 50 years.
What advice would you give to others starting out in this space?
On your journey you will encounter many challenges and barriers. To help you get through those tough periods, it really helps if you're passionate about the subject you're working in.

In my case, I'm always going to be passionate about this subject area, which has really helped me navigate those challenging moments.
Check out more of Brian on Twitter at @Scuba_Timmer and HERE.
📝Research Rundown: Getting Blue Carbon Grooving
THE BIG IDEA
In recent times, demand for blue carbon projects has started to exceed supply. And this has made something abundantly clear:
Financial, social and technical uncertainty surrounding these projects needs addressing. Otherwise, we may never see the implementation of blue carbon as a viable natural climate solution (NCS).
With this issue in mind, Macreadie et al. decided to act. And in May 2022, the team released a new paper -"Operationalizing marketable blue carbon"- which outlines a new blue-carbon action plan.
Here's our quick rundown:
Results
The first step in this investigation involved gathering opinions from experts in economics, mathematics, biogeochemistry, and marine biology.
This allowed Macreadie et al. to map out the various social, governance, economic and technical challenges present in the market.
And ultimately helped them construct an action plan to move the sector forward (partly outlined in Figure 4).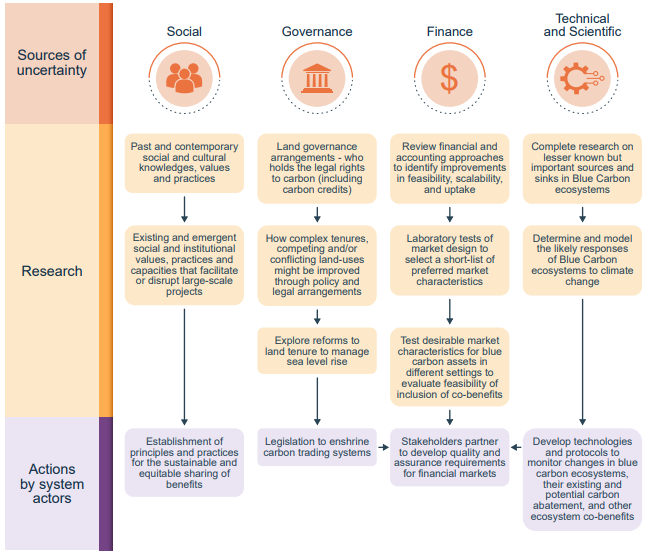 This action plan explores many important themes including how:
Technological innovation must be fostered to improve the parametisation of blue carbon drawdown
Stacking ecosystem service credits (like ''resilience credits'') could be used to further protect coastlines and unlock value
Clarifying land ownership and legal rights to carbon credits is critical
Social uncertainty challenges will remain unless we further consider:

How proposed activities align with community values, behaviours, and perceptions of risk
What individual and collective capacities are required to facilitate sustainable change
The role of local and indigenous knowledge in blue carbon.
Overall…
This paper is a great starting point if you want to evaluate blue carbon's future direction. And if you were looking for problems to solve for your next blue carbon idea, I'd highly recommend giving it a read.
🔥 What else was hot in algae-tech this week?
🐦Tweets of the week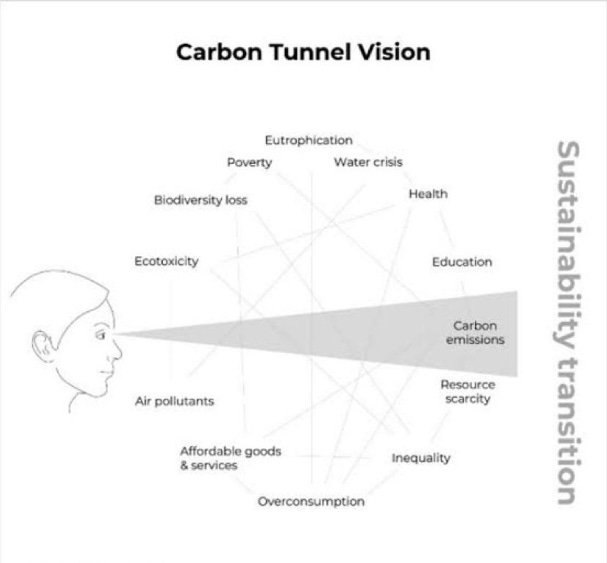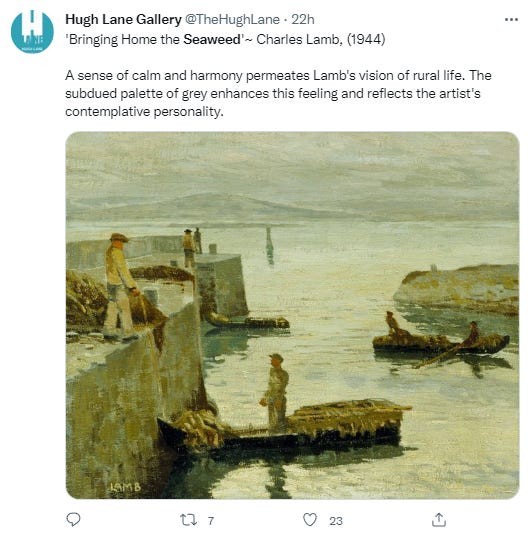 That's all folks!
Thanks again for joining us this week. Hope you have a great day and stay tuned for more algae tech updates soon!
Peter