In today's report– Markets: $350M for Morocco's Blue Economy
Epic: Breaking down seaweed biostimulants
Fireside chats: 7 Tips to Ensure Hits
Around the web: Using Mexico's coastal seaweed infestation to create alternative fuels, pharmaceuticals, and food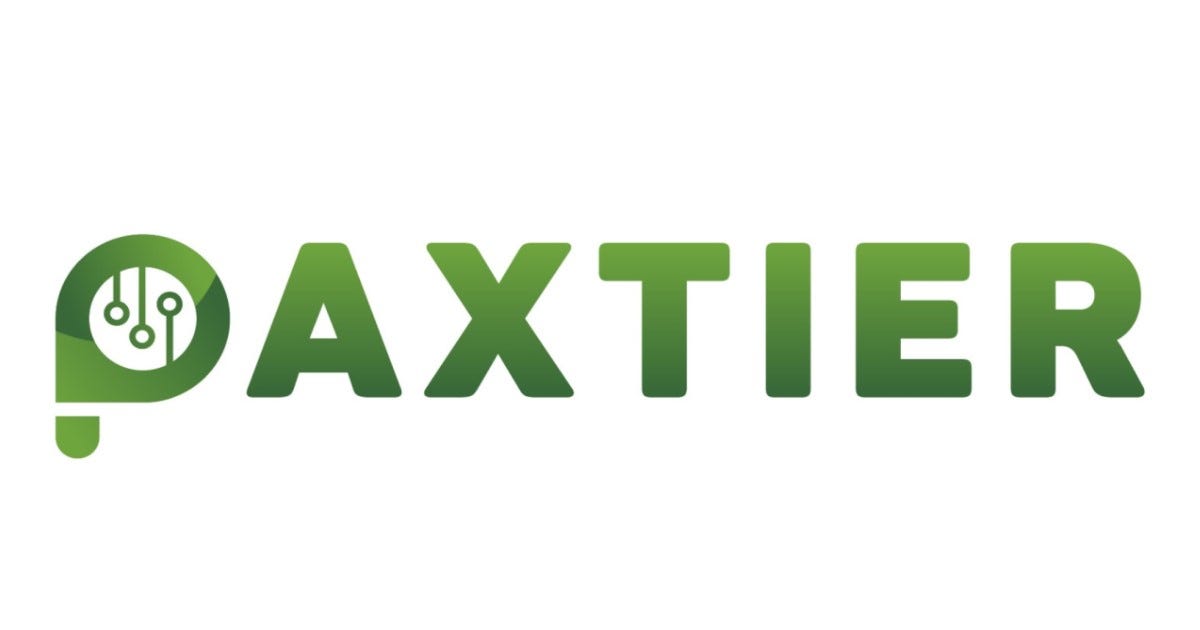 "Take the first step. That's the most important piece of advice I'd give to someone in this space" — Frej Gustafsson, ReShore
---
Dear algae technologists,
Hello and welcome to The Paxtier Report for Wednesday, May 25th 2022!
To start this email, let me draw your attention to Professor Peter Ralph's state-of-the-art algal phenomics robot:
With this device, the UTS Phenomics team hopes to perform high throughput screening of algae for novel traits, and "transform industries currently dependent upon modest yields from wild-type strains."
In today's report:
Markets: $350M for Morocco's Blue Economy
Epic: Breaking down seaweed biostimulants
Fireside chats: 7 Tips to Ensure Hits
Around the web: Using Mexico's coastal seaweed infestation to create alternative fuels, pharmaceuticals, and food
Check this out here.
---
Markets and Investing
⭐ The World Bank Backs Blue Morocco
The World Bank announced Tuesday the approval of a 350-million-U.S. dollar loan to support Morocco launching a blue economy programme.
With this funding, the country hopes to level up in three key areas: job creation, economic growth, and sustainability.
And how do they plan to use this money?
Firstly, by developing institutional frameworks to facilitate improved coordination, collaboration, and execution.
And secondly, by investing in key blue sector activities like sustainable tourism, and the protection and management of ecosystem services. This will involve implementing:
Marine surveys – to estimate the health of fish stocks.
Environmental monitoring of beaches – to attract coastal tourism.
Satellite surveillance – for checking coastal erosion.
And 14 new aquaculture farms (incl. shellfish and seaweed farms) – to create more jobs and provide a more sustainable food source.
Why invest in the blue economy?
📉Chart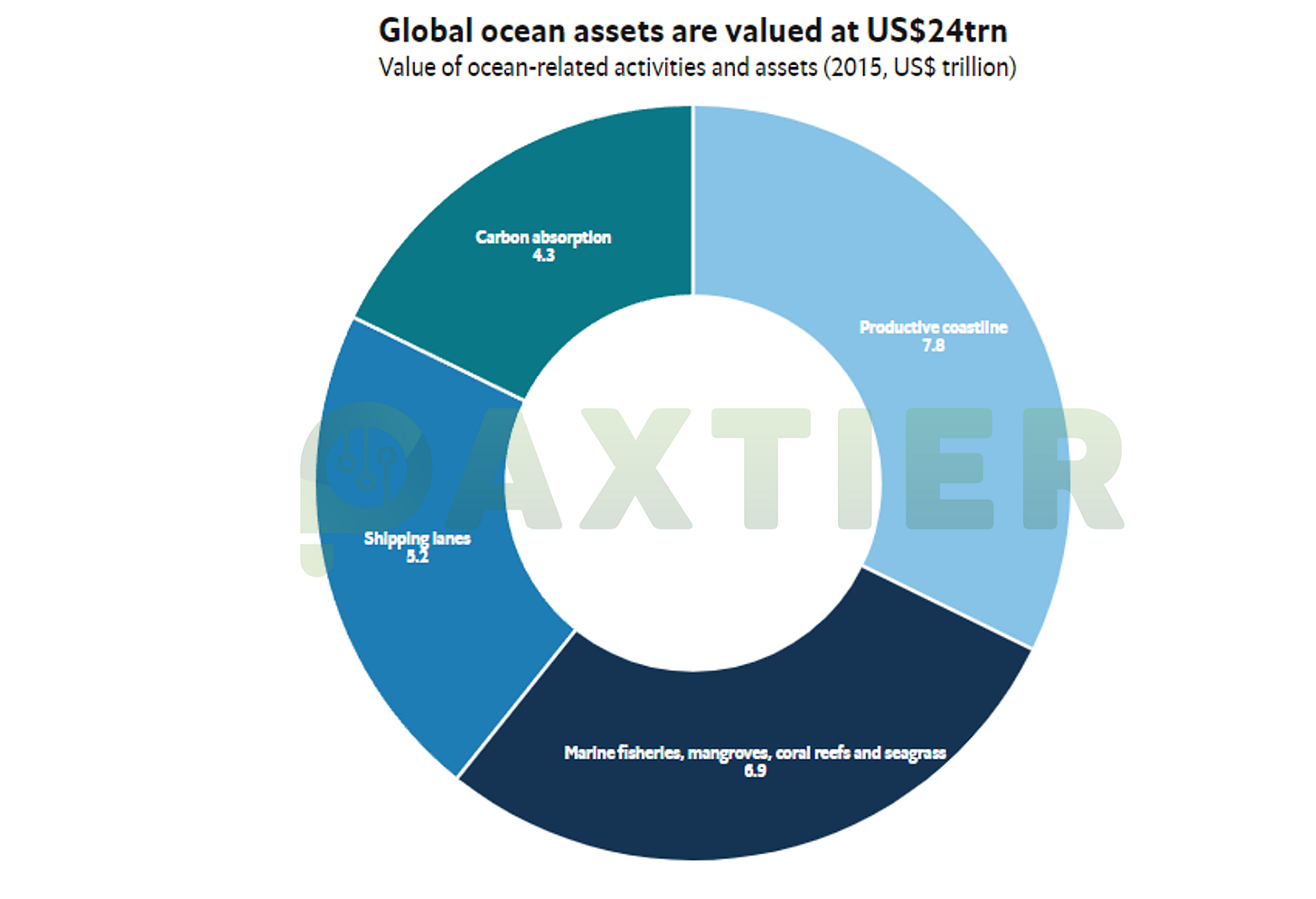 Given the immense value of global ocean assets (Figure 1), Morocco knows full well the importance of protecting its underwater environment.
But does this merit a $350M loan?
Here's how Marcelo Hector Acerbi, Senior Environmental Specialist and Task Team Leader justified the decision:
Given the wealth of its marine and other shoreline assets, Morocco's coast offers opportunities for job creation and an equitable recovery from the pandemic, as well as for increasing its resilience in the face of climate change.

The Blue Economy program is a platform aiming to bring together different sectors and regions to design and implement integrated solutions to manage marine and coastal resources efficiently. By doing so, the program supports an equitable and sustainable society.
✂️Algae Market Snippets
Some other big moves this week:
In depth with Peter Green
💬 Community Fireside Chats: 7 Tips to Ensure Hits
In this week's section, I thought I'd share something a little different: 7 important lessons learned from my fireside chat series.
Below you'll find the 7 most recurring answers (and some examples) given by investors, founders and researchers when I asked them for their top tip for fellow algae technologists.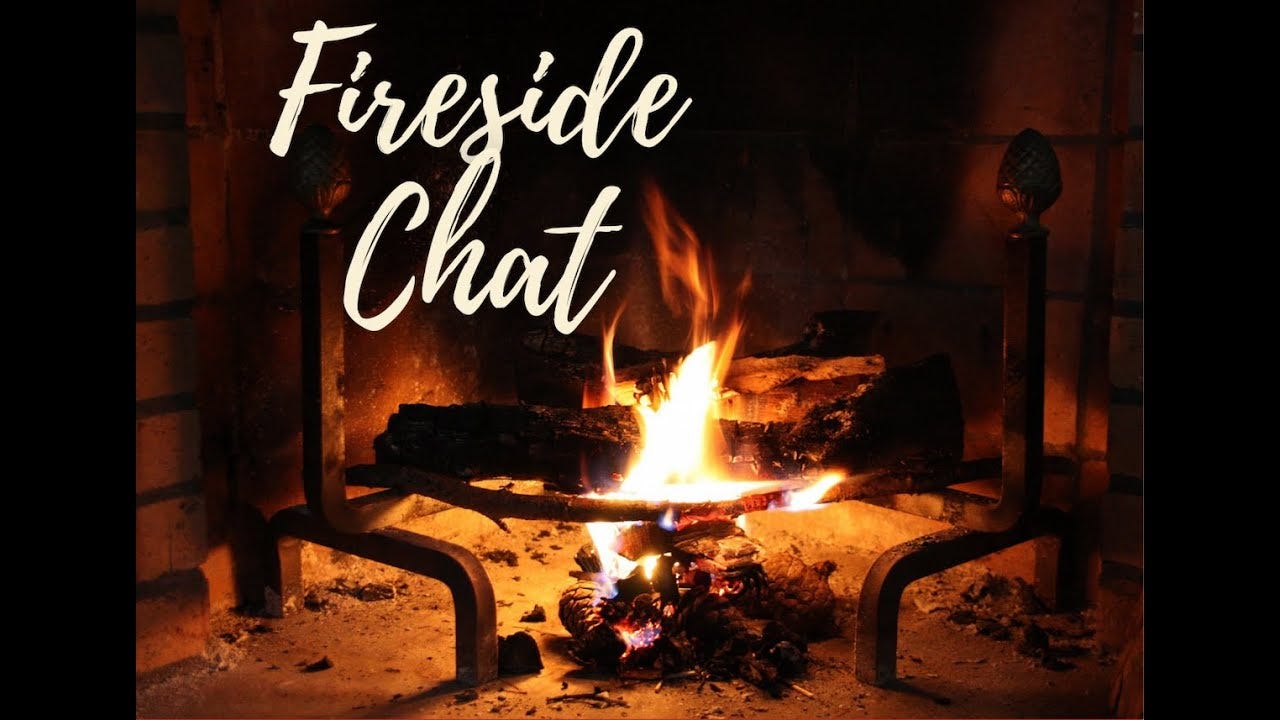 Patience is a virtue."This is a long-term build and involves systemic change. It's challenging because the seaweed sector is such a slow-moving area, particularly in Australia. To work around this, one of the best things I did was talk to everyone around the country working with macroalgae. It's such a great way to gather information and uncover opportunities." Jo Kelly, ASI
Collaborate and connect to move forward. "Find the right people around you and don't try to do this by yourself. Share, share, share your knowledge and your questions." Joost Wouters, The Seaweed Company
Take massive action right now. "The only way we're going to tackle this is by doing things. Climate change is a wicked problem, and it requires a holistic solution. Whether it's seaweed or something else, go out and do something positive!" Adam Brancher, The SOCC
Seek patient financial support. "For deep tech, patient capital can make all the difference. Finding people who are willing to take this slower approach is important." Raffael Jovine, Brilliant Planet
Put yourself and your work out there. "Expose yourself to as many opportunities as possible. Whatever that might mean in your context, put yourself out there. You can't be found if you don't put a signal out." Imche Fourie, Outset Ventures
Focus on why. "Focus on why you are doing these things, and what intrinsically drives you to carry on. Building in this area is hard, and an antidote for this is to hold on to a clear why." Romain Diaz, Satgana VC
Prioritise and stay focussed. "There are so many things to tackle in this space, but you can't do them all at once. If you want to make a difference, you should start by contributing in the small ways and with the things you're good at." Otto van der Linden, SEASEEDS
📝Research Rundown: Breaking down seaweed biostimulants
THE BIG IDEA
For generations, humans turned to seaweed as a biostimulant and fertiliser for their crops.
But why it had such an effect on their produce remained somewhat unclear…
… Until Ali et al. released a breakthrough paper in May 2022, which explored how algae can metabolically influence tomato plant productivity.
Results
For this investigation, the team added Stimplex (a commercial A. nodosum extract) to tomato plants over a 72 hour period.
And after this, they performed transcriptomic analysis, which uncovered something quite special:
A complete change in tomato plant metabolism. Specifically, the up-regulation of 635 genes, and down-regulation of 456 other genes.
Which genes?
According to the paper, "Ontology enrichment analysis showed three gene categories were augmented, including biological processes, cellular components, and molecular functions" (see Figure 1).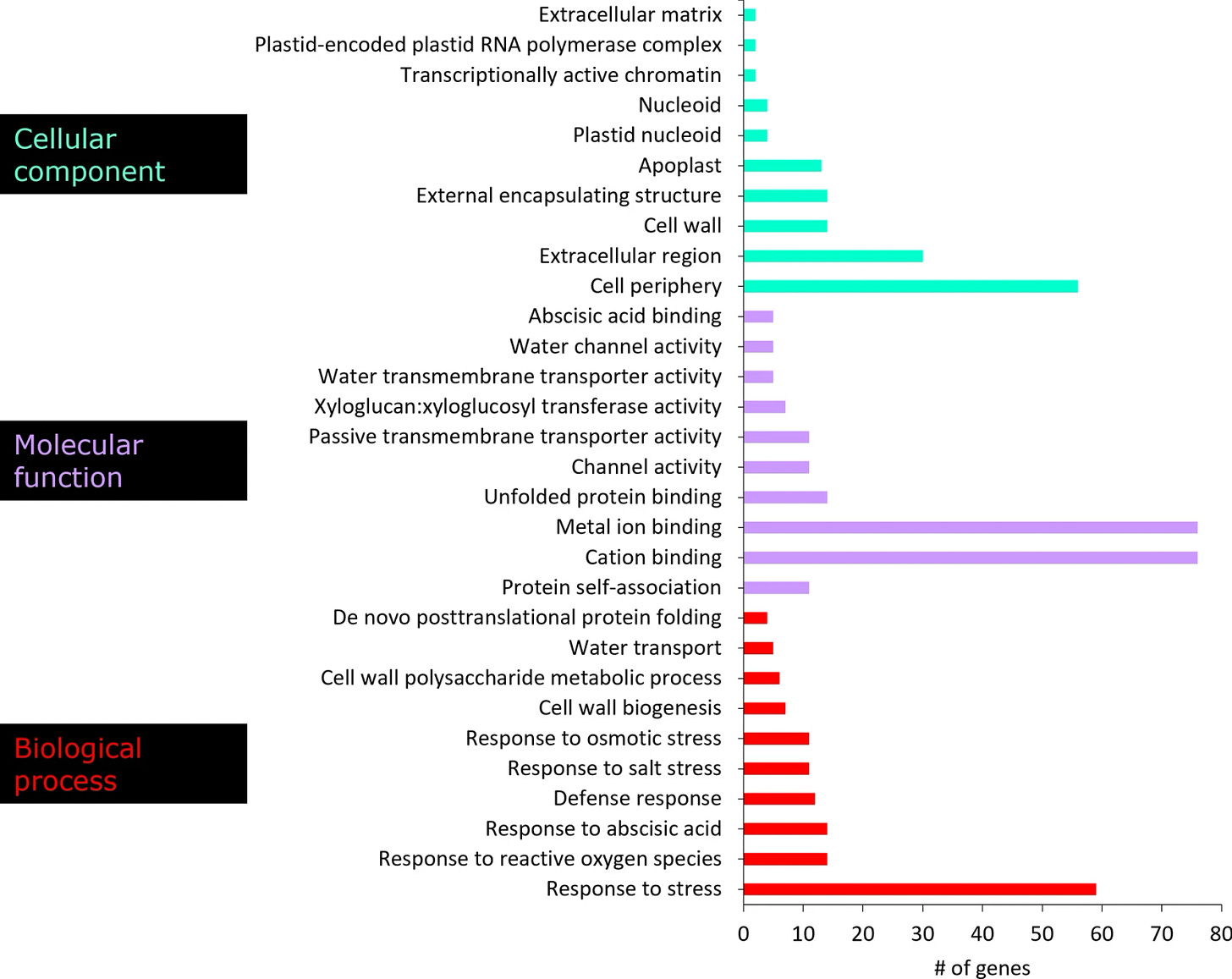 And KEGG pathway analysis revealed that the extract had a strong influence on the expression of genes involved in:
Carbon fixation,
Secondary metabolism,
MAPK-signalling,
Plant hormone signal transduction,
Glutathione metabolism,
Phenylpropanoid and stilbenoid metabolism, and
Plant-pathogen interactions
See Figure 2 for a visual representation of these pathways.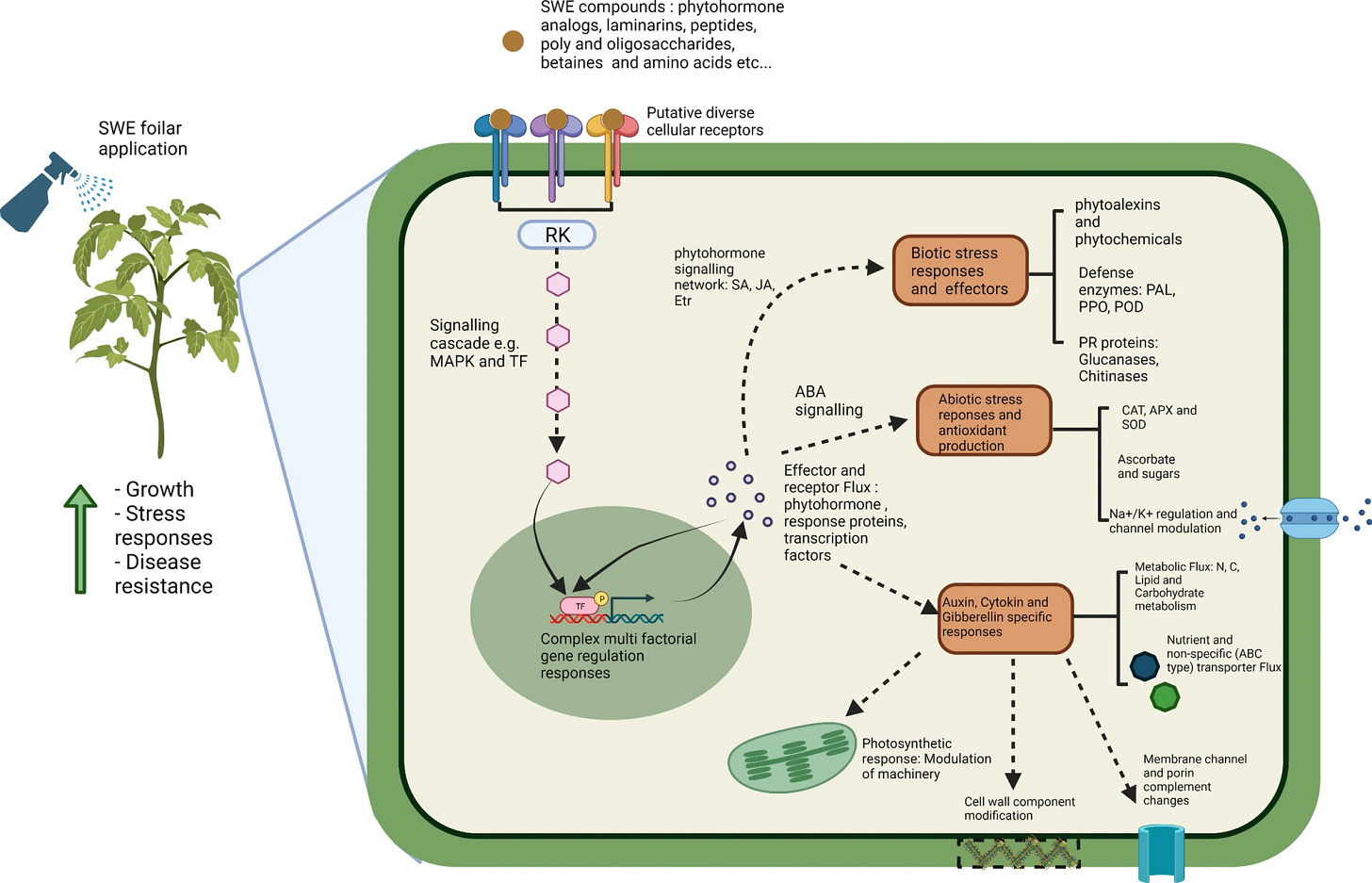 With these findings, the team link the use of seaweed extract to favourable plant growth and stress resistance. They also show support for the continued use of Stimplex as a biostimulant for plant crops around the world.
As the manufacturer of Stimplex, it'll be interesting to see how Acadian Seaplants integrate these findings into their product marketing.
At present, the firm sells its extracts to farmers in more than 80 countries (for 70 different crop types), and we can see this research going down well with buyers.
🔥 What else was hot in algae-tech this week?
🐦Tweet of the week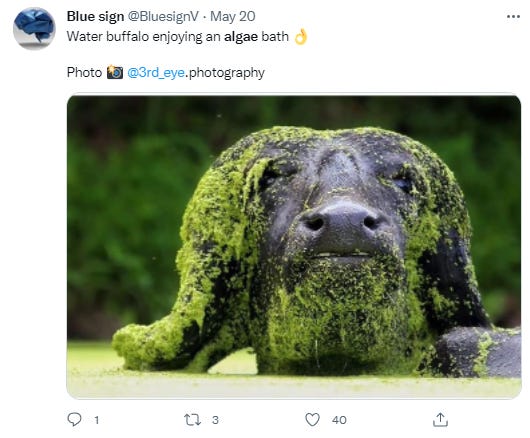 11. Last week, Sustainable Ocean Alliance co-hosted the 2022 Ocean Pitch Challenge with RespectOcean to develop and promote viable solutions for oceanprotection. The 3 winners of the 10 finalists of the challenge were:
FINSULATE France, an ocean-friendly solution to prevent marine organism growth on maritime vessels and SOA Accelerator Alumni.
Algae to House, a student-run project to turn sargassum seaweed waste into bricks for construction in the Caribbean.
Bonvent!, a solution that solves the logistical challenges of recycling and repurposing end-of-life boats.
Jobs
(LINK HERE)🌱 Multiple Positions at Bigelow Laboratory – Maine
(LINK HERE) 🌿Research Associate: Bio Engineer – C3 UTS Sydney
Events
Drop us a message if you're free for a catch-up at London Tech Week!
That's all folks!
Thanks again for joining us this week. Hope you have a great day and stay tuned for more algae tech updates soon!
Peter