In today's report – Markets: 👒 Tackling the fashion industry with algae tech
Chart: Algae aquaculture in 2020 📉
Epic: Making foam from algae and recycled plastic ♵
Reports: Give it up for the FAO 🐟
Around the web: Aquaman meets Seaweedman 🧜‍♂️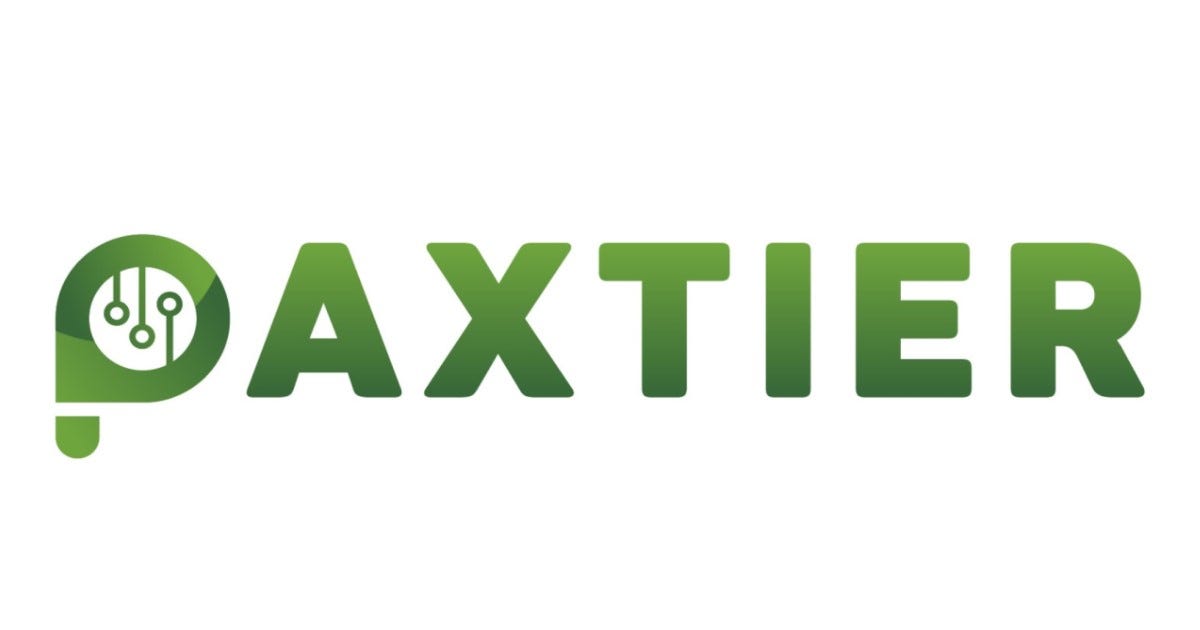 "We are all citizens of Planet Ocean, and it falls on our watch to do the necessary work to secure the healthy, thriving ocean on which humanity's future depends." — Peter Thomson, UN Special Envoy for the Ocean
---
Dear algae technologists – hello and welcome to this week's Paxtier Report!
To start this email, let me draw your attention to Nike's new sustainable t-shirts, which showcase Scott Fulbright's "algae ink".
Scott's company, Living Ink, makes eco-friendly pigments from algae. And several brands – including Marmot and Vollebak – have implemented the extract in their products.
So, what do you think – can algae ink disrupt the billion-dollar pigment industry?
Find out more HERE.
---
Markets and Investing
👒 Tackling the fashion industry with algae tech
This week, AlgiKnit raised $13 million from Collaborative Fund, H&M CO:LAB, Third Nature Ventures, and Starlight Ventures.
And it got folks in the biomaterials space talking.
But who are AlgiKnit and what do they do?
The company first landed on the scene in 2017, when Tessa Callaghan and Aleksandra Gosiewski set out to make fashion more sustainable. And that's when they turned to kelp.
Thanks to their "non-toxic, wet-spinning process", the team produces various recyclable yarns and fibres from seaweed – which they hope will replace conventional materials in the clothing industry.
And how much positive impact could this have?
Making clothes, footwear, and textiles from conventional fibres creates huge amounts of pollution. In fact, according to the EU, the fashion industry causes around 10% of global GHG emissions, 35% of all microplastics in the oceans, and one fifth of the world's clean water pollution.
AlgiKnit's products could eliminate a good chunk of these problems, and here's what CEO, Tessa Callaghan had to say about that:
This is a huge next step in bringing this technology to scale, and creating positive, tangible change for the planet. We are so excited to partner with new and existing investors who share our vision for transforming the fashion ecosystem.

With the opening of our new facility in the Research Triangle area of North Carolina, we are focused on expanding our production capabilities, partnerships, and team to address global demand more quickly.
✂️Algae Market Snippets
Some other big moves this week:
In depth with Peter Green
🐟 Give it up for the FAO
This week's UN Ocean Conference saw the release of the Food and Agriculture Organization's (FAO) State of World Fisheries and Aquaculture report.
And this year, it's all about the 'Blue Transformation' strategy, which explores how we can produce, manage, trade, and consume aquatic foods sustainably under the UN Sustainable Development Goals.
Aquaculture in 2020
According to the report, growth of all aquaculture, particularly in Asia, lifted total production in the sector to an all-time high of 214 million tonnes in 2020, consisting of 178 million tonnes of aquatic produce and 36 million tonnes of algae for consumption.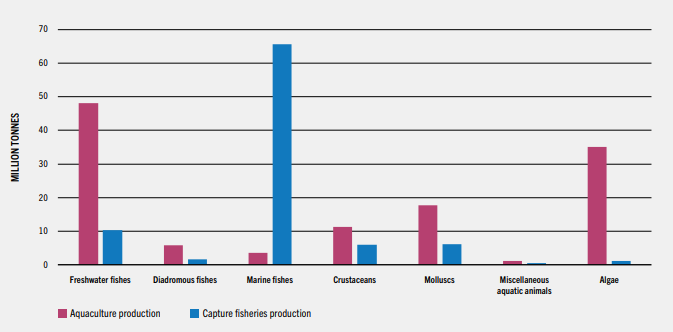 And while that may seem impressive when compared to algae production 20 years ago (see figure 2), total algae production only increased by 2 percent in the period from 2019 to 2020.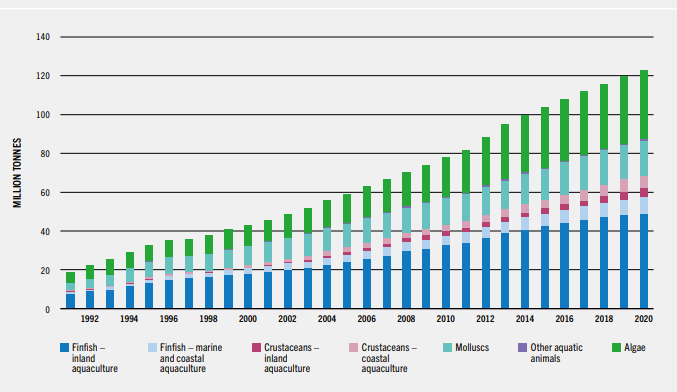 Essentially, there was only a 0.5 million tonne increase in global algae cultivation from 2019 to 2020, driven mainly by China and Japan.
And here's how the major players in the industry stacked up in 2020:

Overall
With total demand for food expected to ramp up, the report questions whether we can provide global food security in the future.
Clearly, plenty more work and research needs to be done to meet that demand, but algae remains one of the most attractive and sustainable food sources available to us moving forward. Here's what Manuel Barange, Director of FAO's Fisheries and Aquaculture team, had to say about the situation:
We need to make sure that we start looking at the species that are arriving to markets that might be different from the historical ones. Ultimately, if the adaptation to climate change is done properly, aquatic food consumption per capita can continue to grow, helping release pressure on land-based food production systems.
📝Research Rundown: Making foam from algae and recycled plastic
THE BIG IDEA
Foams are commonly used as sound absorbers and thermal insulators for many industrial and construction applications.
But these foams are conventionally produced from primary raw materials, such as rocks and fossil fuels. And as the world becomes more sustainable, renewable insulators represent a multi-billion-dollar opportunity.
So, this week I was excited to see Caniato et al.'s paper feature in Nature, which presents a novel sustainable foam insulator made from an alginate matrix and plastic waste powder.
How does it work?
Alginate is a linear anionic polysaccharide extracted from brown algae. It's widely known for its suitability as a bio-scaffold and can produce porous structures with very good acoustic properties.
As a result, by combining alginate with a microplastic powder, we can develop renewable, open-cell foam for various industries.
And that's exactly what Caniato et al. did.
Ultimately…
The resulting foams were great at sound absorption and had tuneable characteristics. For example, by varying the type of microplastic, or changing the alginate concentration, the team could tailor the product for different sectors. And this opens the door for its use in civil, industrial and naval applications in the future.
🔥 What else was hot in algae-tech this week?
🐦Tweet of the week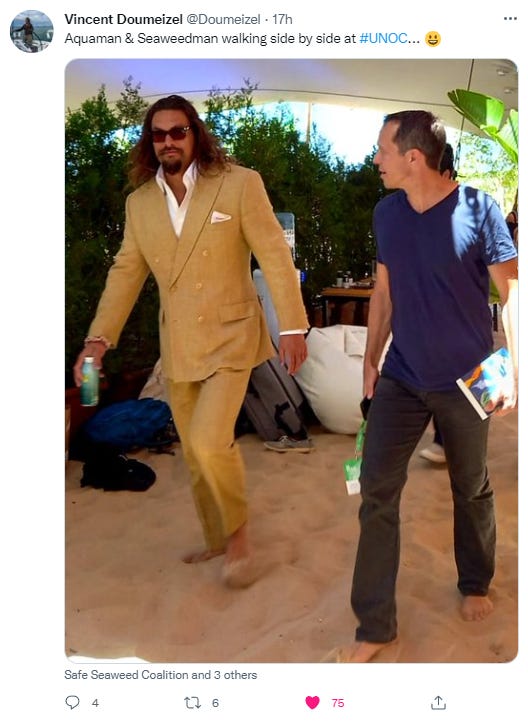 That's all folks!
Thanks again for joining us this week. Hope you have a great day and stay tuned for more algae tech updates soon!
Peter