In today's report– Chart: What's stopping the aquaculture revolution?
Markets: Symbrosia has raised $7 million in new funding.
Epic: Development of spirulina for the manufacture and oral delivery of protein therapeutics
Conference Highlights: London Tech Week Synthetic Biology
Around the web: KTH researchers Joana Fonseca and Sriharsha Bhat have founded the spin-off Knowcean together.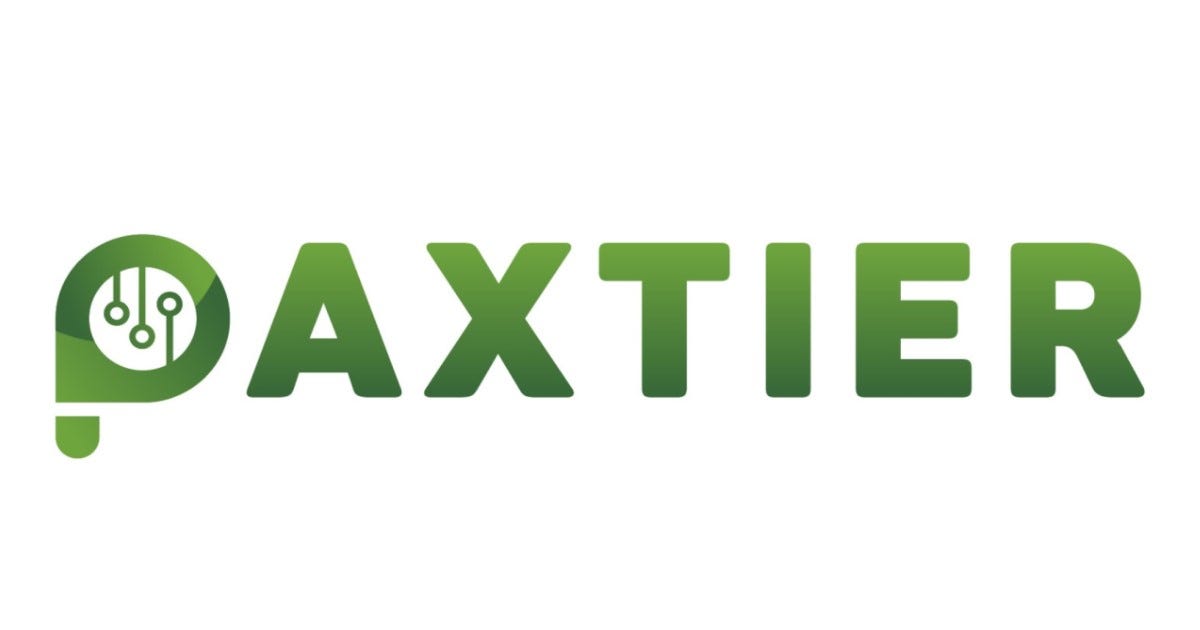 "It's so exciting to see so many new investors come into the aquaculture space, but there needs to be an alignment towards long-term value" — Amy Novogratz, Managing Partner, Aqua-Spark
---
Dear algae technologists,
Hello and welcome to The Paxtier Report for the period 150622 – 220622!
Did you know that the Sargasso Sea, located entirely within the Atlantic Ocean, is the only sea without a land boundary?
Instead, it's surrounded by ocean currents and is named after the free-floating seaweed Sargassum, which can be found reproducing vegetatively on its high seas.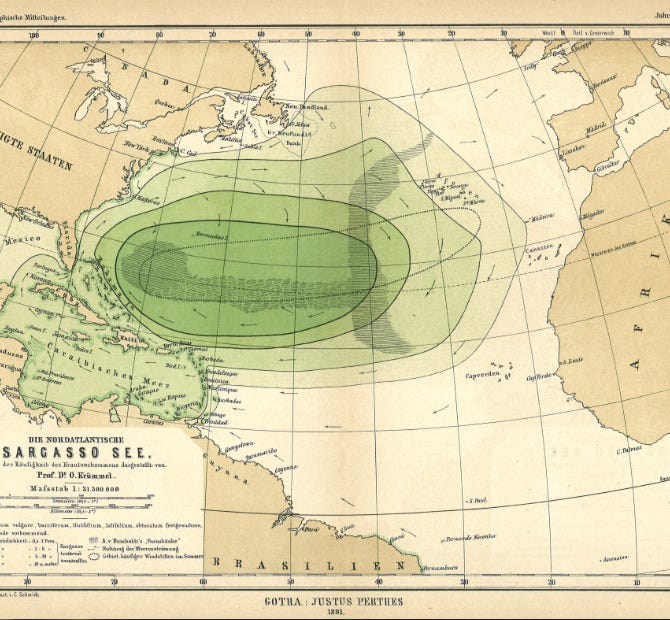 Columbus first documented his encounters with Sargassum in his expedition diaries in 1492. In these journals, he describes how this species threatened the safety of his ships by concealing lethal coral reefs.
---
Markets and Investing
🐟What's stopping the aquaculture revolution?
Last week, Maggie Fried from CREO's Oceans, Seafood, and Aquaculture Investor Consortium (OSAIC) made some interesting points during her speech at the Blue Food Innovation Summit 2022.
But it was her damning evaluation of the aquaculture fund ecosystem which made headlines. Find out why below:
Who are OSAIC?
Established in 2020, OSAIC is a group of 35 investors looking to drive more capital into blue foods and blue tech "by working together on dealflow, diligence information and co-investment."
At present, the global consortium consists of 30+ family offices and funds. And since their inception, they've managed to deploy around $200 million into sustainable oceans, aquaculture, and seafood investments (see the breakdown in figure 1).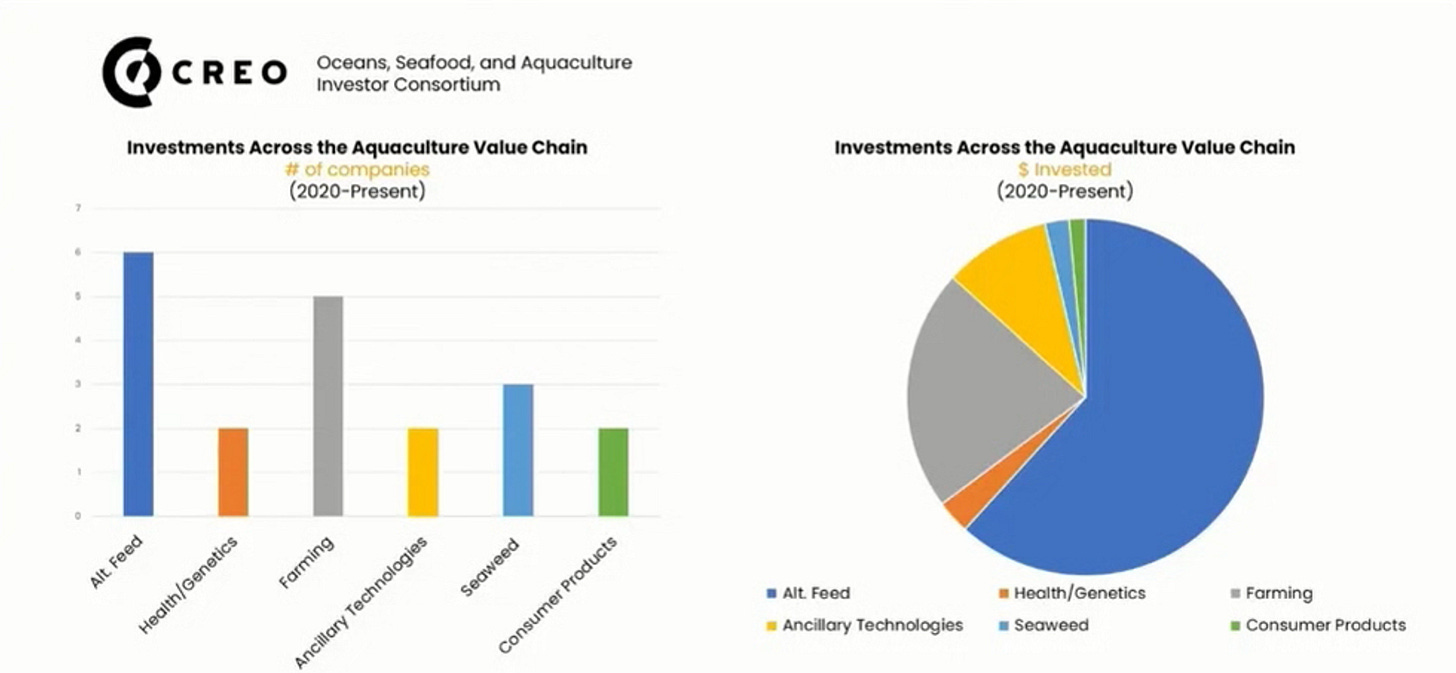 But this doesn't even scratch the surface…
And despite the amazing selection of investors operating in aquaculture (as outlined by OSAIC in figure 2), Fried didn't hold back with her review: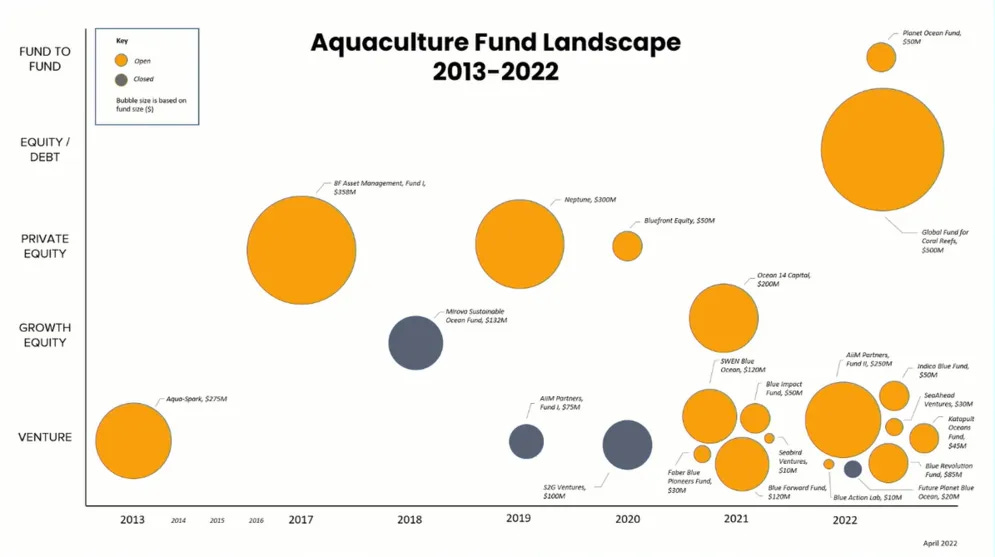 Here's what she had to say:
If you look at the Towards a blue revolution report that the Nature Conservancy and Encourage Capital put out in 2019, they estimated that – to meet the demand for aquaculture – we would annually need $12-25 billion [invested] just in aquaculture infrastructure. That doesn't even include the upstream and downstream part of the supply chain. So clearly, we're not even close to the amount of capital we need to truly build this sector.
And from a fund differentiation standpoint:
Will there be enough high quality venture opportunities in this space for all of these funds to have a differentiated pipeline and be able to get the venture returns that they need?

Do we have the investors who are going to come in and write the larger cheques after those companies scale? Do we have investors who will come in and invest in infrastructure and debt financing?

No – in my opinion, which is problematic because it means we might be building out a non-robust, very lopsided supply chain. And these areas that are perhaps less sexy – processing, and cold storage for example, are not receiving the capital that they need. Consequently, when we scale production, we'll have this 'missing middle' part of the supply chain that's being underinvested in."
But it's not all doom and gloom… Particularly when it comes to seaweed
Here's what Fried shared:
When I started this role in 2020 I had maybe one or two investors who were interested in seaweed. Now every single one of them, regardless of their strategy, is looking at it…
And there you have it folks. Once again… all roads lead back to algae.
✂️Algae Market Snippets
Some other big moves this week:
In depth with Peter Green
💬 Conferences: London Tech Week Climate Summit
This year's London Tech Week brought together 20,000+ global government and corporate leaders, inspirational start-up founders, senior investors and tech rising stars to discuss the power of technology in society.
And while attendees were treated to a host of awesome talks from the likes of Ukraine's President Volodymyr Zelensky, Speedinvest, and Maersk, it was the panel on synthetic biology which really stood out for me.
This talk brought together 4 climate technologists: Jacob Nathan, Shara Ticku, Sean O'Sullivan and David Rowan to discuss the role of synthetic biology in climate tech.
And here's how Sean O'Sullivan, Managing GP at SOSV, opened the talk:
Many people think that getting an electric car or quitting plane flights will eliminate their climate impact. But in reality, these changes will only reduce their environmental footprint by 4%.

The real change happens when they give up animal agriculture food products. This can reduce their footprint by 20%. And this is where synthetic biology can have a massive impact immediately.
c16 biosciences
The panel continued by speaking at length about various synthetic biology companies in the climate tech space, before David eventually introduced us to Shara Ticku and her company c16 biosciences.
Over the past four years, this team has been harnessing innovative processes found in nature to brew sustainable alternatives to palm oil. And it was awesome to hear about their attempts to co-culture cyanobacterium and yeast to create these new products.
But it's not all been plain sailing. And Shara concluded the talk by offering this handy advice for fellow synthetic biology founders:
Get down the cost curve ASAP by setting great key performance indicators, and doing all you can to scale.

In addition, spend more time thinking about business models. Oftentimes, synthetic biology companies are tackling massive, billion-dollar industries. And while B2B is attractive in these industries, it can be really slow and hard. So, take the time to review your options!
📝Research Rundown: algae-encoded biopharmaceuticals
THE BIG IDEA
Despite its potential as a biomanufacturing platform, the edible photosynthetic cyanobacterium Arthrospira platensis (spirulina) has had a problem:
There haven't been enough genetic tools available to modify it for biopharmaceuticals.
But that all changed in March 2022…
… When Jester et al. from Lumen Bioscience published a breakthrough paper outlining a new methodology to highly express bioactive proteins in the organism.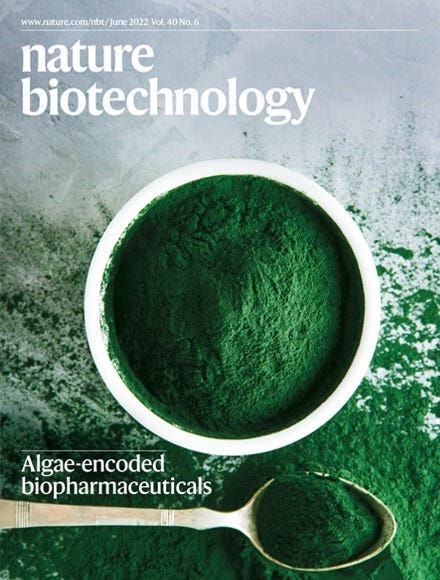 Results
To do this, the team integrated various exogenous genes into the spirulina chromosome by markerless homologous recombination, before evaluating the stable, high-level expression of several therapeutic proteins including bioactive peptides, single-chain antibodies, enzymes, signaling proteins and vaccine antigens.
And?
They discovered several methods that allow constitutive and stable expression of protein therapeutics in spirulina with productivities and potencies tens to hundreds of fold higher than achievable in other food-based platforms.
Amazingly, these advances in scalability and potency make orally delivered biologics commercially feasible for the first time.
And here's what Jim Roberts, M.D., Ph.D., Chief Scientific Officer of Lumen Bioscience had to say:
Delivering therapeutic amounts of protein biologics to the intestine presents an enormous challenge, and for this reason targets in the GI tract have long been considered almost undruggable.

The spirulina platform elegantly addresses this challenge. It can be used to produce and deliver the enormous quantities of ingestible biotherapeutics that will be needed to both prevent and treat gastrointestinal diseases. Preventing and treating diarrheal disease, the example reported in today's paper, offers an excellent case study: these highly prevalent diseases have devastating impacts in the developing world, but traditional drug-making tools have failed to generate a solution despite decades of heavy investment. The approach described in our publication offers new hope to the individuals exposed to these diseases.
The publication also details favourable preclinical and early-stage clinical testing of these products against campylobacter, a major cause of infant mortality in the developing world and a growing antibiotic resistance threat. The product, LMN-101, is now proceeding through Phase 2 clinical trials, and BARDA's CARB-X program is funding development of a second-generation version.
🔥 What else was hot in algae-tech this week?
🐦Tweet of the week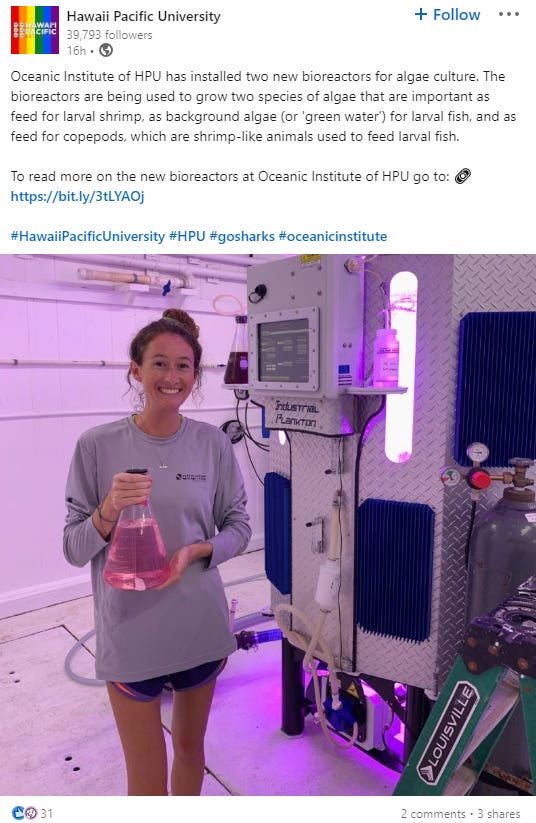 That's all folks!
Thanks again for joining us this week. Hope you have a great day and stay tuned for more algae tech updates soon!
Peter