The Paxtier Report 040522
In today's report: Markets: Purissima is betting on microalgal cannabinoids
Chart: Climate Tech Innovation Hype Curve
Epic: $30 million put towards manatee rescue
Fireside chat: Algae Entrepreneur Simon Davis
Around the web: Alternative photosynthesis pathways drive the algal CO2-concentrating mechanism
---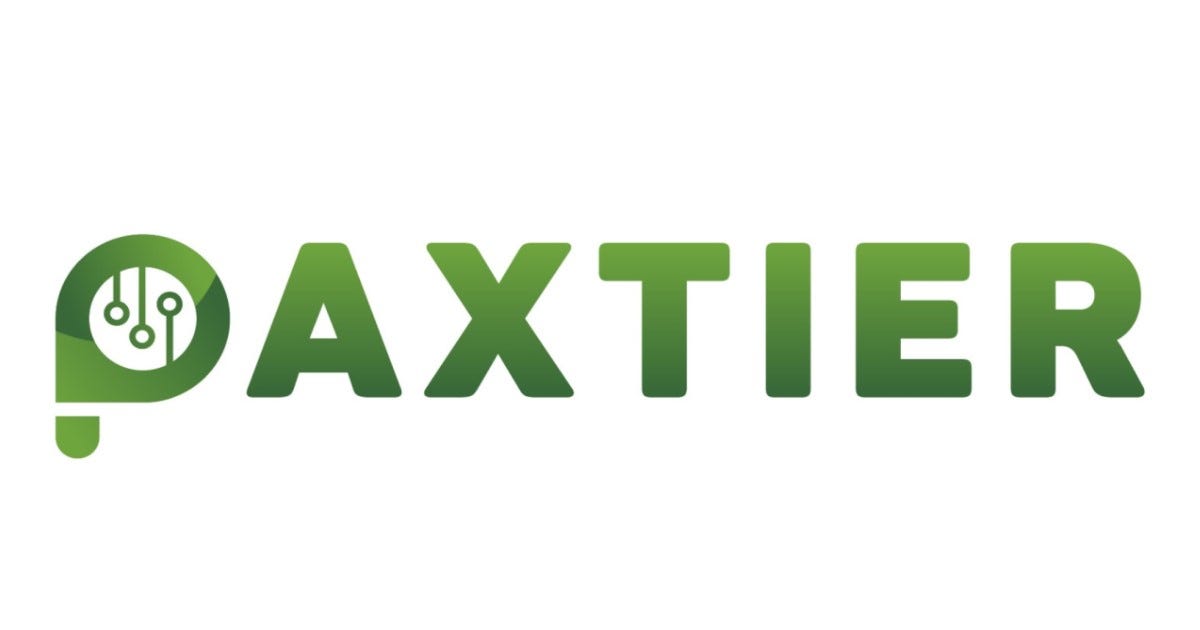 "It's important to know what makes you happy. Because that's the stuff that gets you through the tough times." — Dr Raffael Jovine, Brilliant Planet
---
Dear algae technologists,
Hello and welcome to The Paxtier Report for Wednesday, May 4th 2022! Here's to another big 7 days in the world of algae tech.
To start this email, check out this image showcasing an LED microalgae pond: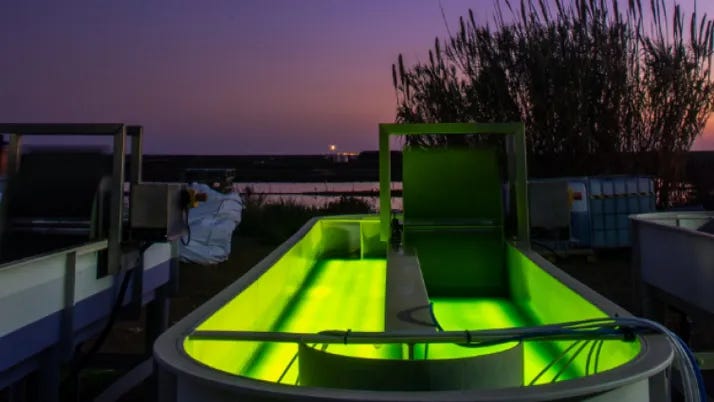 This photo comes from an investigation led by researchers at CCMAR, who studied the impact and costs of integrating LEDs in outdoor raceway ponds to increase the production of Nannochloropsis oceanica.
---
Markets and Investing
This week, environmentalists were pleased to see Governor Ron DeSantis put $30 million towards expanded manatee rescue, rehabilitation, and habitat restoration.
Overall, this represents a $17 million increase from last year's budget, but comes after the death of 1,101 manatees in 2021 (nearly twice the five-year average), driven mostly by starvation and algae blooms.
Charts
Get Hyped For Climate Tech

In other news this week, a great SBV report investigated the future of climate tech.
Highlights from the report included the figure above (which shows where climate-related technologies sit on the hype curve), the main funding sources for climate technology start-ups, and the somewhat surprising academic backgrounds of climate tech founding teams.
Microalgae For Sushi Protein
Soon after this SBV report landed, Veylinx published its research concerning alternative protein market demand. For this study, the team surveyed 3583 consumers to measure demand for seven alternative proteins across seven different formats (e.g nuggets, sushi and bacon.)
Microalgae did well across the board, but performed best in the alternative sushi sector, where it collected 38% of the votes for preferred sushi alternative protein source.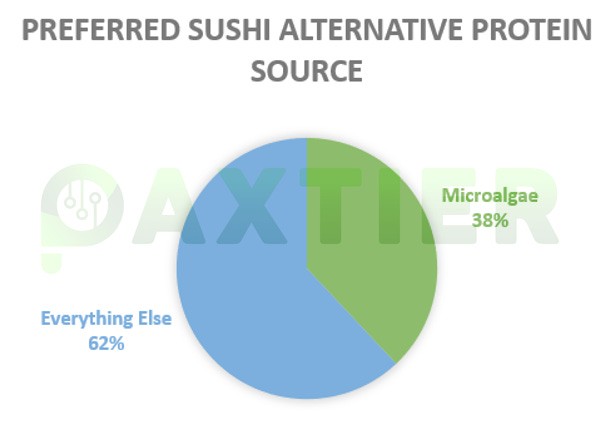 Purissima backs Cannabinoids
Purissima is a biotechnology company using microalgae to revolutionise how customers source and use plant-based ingredients. Last month, the group announced three new U.S. Patents (11,193,151, 11,242,546 and 11,242,547), and so far, the team has sustainably and effectively biomanufactured 70+ natural ingredients.
But it's their interest in cannabinoids and cannabinoid-infused microalgal products which has been stealing headlines in recent times…
For example, just last week, Purissima announced the results of its cannabis study, which explores the attitudes of cannabis consumers, the cannabinoids landscape, and future opportunities within the cannabinoid-infused skincare sector.
Why Focus On Cannabinoids From Microalgae?
According to the report:
There is vast growth potential for cannabinoid-infused skincare as consumer demand for THC rapidly rises. For example, the global demand for THC is projected to exceed $400B by 2025 and the global CBD skincare market is forecasted to reach $3.4B by 2026.
Similarly, revenue from CBD-infused topicals is expected to surpass $400M annually by 2030.
Moisturizers and cleansers are among the most popular topical CBD forms with primary skin concerns being anti-aging and dryness.
Algae Market Snippets
Some other big moves this week:
Biofuels get busy: Viridos (formerly Synthetic Genomics, Inc), has been awarded the California Competes Grant. The grant will allow Viridos to create more than 70 high-paying professional jobs and bring nearly $75 million in investment to the Imperial Valley. The funding will go towards developing its algae genetics work and the deployment of low-carbon intensity biofuels for aviation, commercial trucking, and maritime shipping. (Read more HERE).Pond Raceway, credit Viridos
Collaboration: Tarek El Molla, Egypt's Minister of Petroleum & Mineral Resources, announced a project to capture and store carbon dioxide in the Meleiha field, in cooperation with the Italian company Eni. The Minister said the project will focus on the extraction of algae oil for biofuels, the creation of biodegradable plastics, and the conversion of plastic waste into oil to be used as a raw material in polyethylene production. (Source GulfBusiness)
Antimethanogenic: This week, Pond Technologies entered into a research agreement with BioCarbN Inc., Cross River Infrastructure Partners LLC, and Livalta/AB Agri to identify strains of algae that could prove beneficial in reducing enteric methane emissions from cattle when included in animal feed. (Read more HERE)
Zeewaar, the first Dutch organically certified seaweed farm, has been bought by The Seaweed Company. The Zeewaar team produces seaweed in Jacobahaven, Kamperland, and over the past decade has developed the market for seaweed products in the Netherlands by collaborating with brands such as Hema, ProLaTerre (part of SoFine Foods) and The Dutch Weedburger (part of Livekindly Collective). (Source The Seaweed Company)
Who's got red seaweed? Marinomed Biotech AG, an Austrian biotech company announced that Aspen Pharmacare Australia Pty Ltd, one of Australia's largest pharmaceutical companies, has become their distribution partner for Carragelose-based nasal sprays. Carragelose, a sulfated polymer made from red seaweed, is an anti-viral compound used for treating respiratory diseases.
In depth with Peter Green
💬Community Fireside Chats: Simon Davis
Simon Davis is an algae entrepreneur on a mission to sustainably farm our oceans.
In 2018, he founded SEADLING, a seaweed biotech company based in Malaysia. This team hopes to drive innovation in the tropical seaweed sector by creating high value seaweed feed additives for pets, aquaculture, and grazing animals.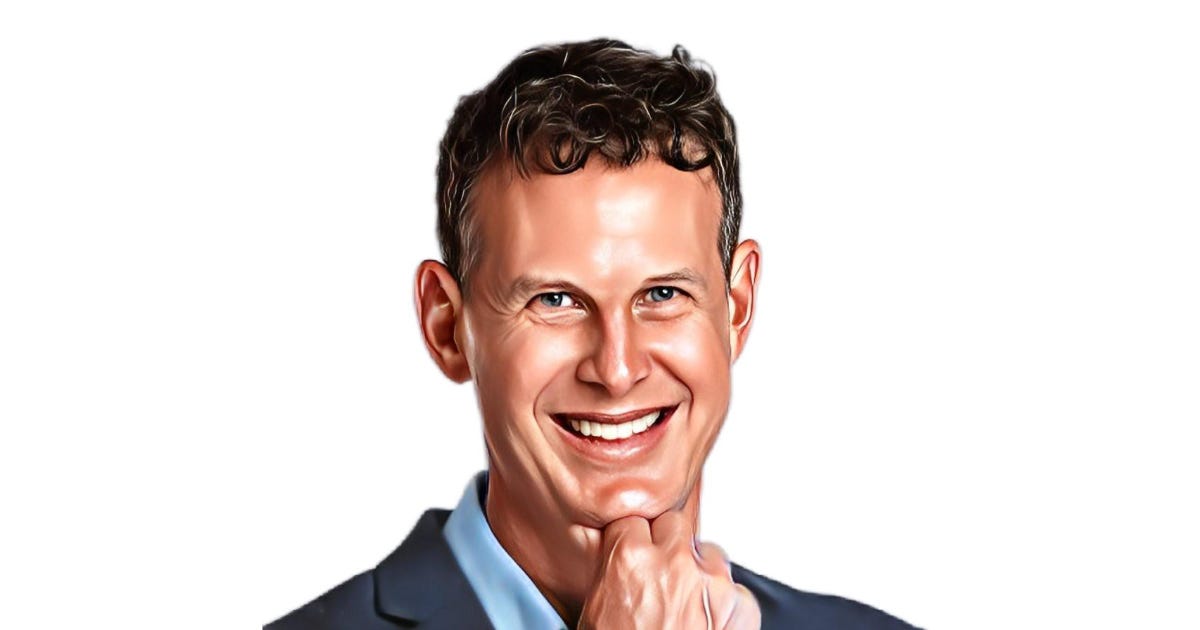 In this conversation we spoke about SEADLING's journey, Simon's perspective on the algae space, and advice for innovators working in the sector.
Here's a teaser from our call:
Why did you create SEADLING?
After working closely with seaweed farmers in Indonesia for a few years, I realised how low tech and under researched the tropical seaweed sector was. 

Essentially, it became clear to me that no innovation had taken place in the space for 40 to 50 years.

Following this observation, I spent a year travelling the world, visiting researchers, and connecting with seaweed companies and farmers. That's when I noticed the limited selection of products being made from tropical seaweeds.

Out of those pain points I saw a real opportunity and decided to create SEADLING.
What's next for SEADLING?
We are very excited about fermented seaweed and have launched a product called SEADLING Pet, which is a digestive health enhancer for the pet space.

We've had an overwhelmingly positive response for that product so far and have big plans for it over the coming years.
What advice would you give to yourself starting out in this space?
The number one piece of advice I would give is to be patient.

In the seaweed industry you can encounter many challenges. As a result, give yourself time and don't be too hard on yourself.
📝Research Paper Review: Alternative photosynthesis pathways drive the algal CO2-concentrating mechanism
THE BIG IDEA
In this interesting piece, Burlacot et al. explore how microalgae concentrate carbon dioxide around the CO2-fixing enzyme Rubisco, in a critical step which improves the organism's ability to photosynthesise effectively.
The overall aim of this study was to demystify the poorly understood molecular and energy transfer mechanisms behind the process.
Results
To investigate this process, the team studies Chlamydomonas mutants of the PGRL1-dependent CEF (pgrl1), PCEF (flvB) and BSTs. They show that the CCM (CO2 concentrating mechanism) activity is unaffected in single CEF or PCEF mutants but is severely impaired in double mutants.
Consequently, the researchers are able to show how in the green alga Chlamydomonas reinhardtii, the combined action of cyclic electron flow and O2 photoreduction (which depend on PGRL1 and flavodiiron proteins) generate a low luminal pH that is essential for CCM function.
The team then propose an integrated view of the network supplying energy to the CCM, describe how algal cells distribute energy from photosynthesis to power different CCM processes, and suggest that the combined action of three alternative photosynthesis mechanisms (CEF, PCEF and CMEF), can fulfil the energy requirement of the CCM without compromising CO2 fixation.
Why does this matter?
An interesting field of biotechnology research at the moment involves the improvement of agricultural crops by transferring microalgal components to higher plants.
Given the growing interest in this field, the team suggest how their newfound knowledge can potentially be coupled with agriculture to boost plant productivity, and how future research coupling energy source and CCM expression should help to boost plant productivity.
🔥 What else was hot in algae-tech this week?
ESG investors shouldn't ignore biotech's potential to deliver change. Investors might be drawn to familiar green industries like electric vehicles or solar panel manufacturers, or explicitly socially conscious brands like Salesforce.com. However, many of the most valuable ESG investments are in more fundamental sectors: software companies that have gone carbon-neutral, cutting-edge waste management firms, and especially the diverse firms of the biosciences industry. (Read more HERE).
An international research group led by the Technion – Israel Institute of Technology has recently deciphered the process through which marine organisms develop their hard and durable skeletons. Red algae use magnesium-calcite crystals to coat all their cells and increase durability as the algae are subjected to the pressures and physical trauma of shallow waters.(TheJerusalemPost.com)
An algae found in 1890 is still alive and well in a state-of-the-art 'Noah's ark' in a west coast village in the Scottish Highlands more than a century after it was found. It's one of around 3,000 microscopic organisms held in a collection at the Culture Collection for Algae and Protozoa (CCAP) laboratory, based at the Scottish Association for Marine Science (SAMS) in Oban. The collection is at the heart of the new Algae Research, Innovation and Environmental Science (ARIES) Centre. (Scotsman.com)
(Paper) Phosphate-regulated expression of the SARS-CoV-2 receptor-binding domain in the diatom Phaeodactylum tricornutum for pandemic diagnostics (Nature.com)
Where satellites come up short, drones can fill in a picture of our oceans. Drones could be especially helpful in finding and tracking local and dangerous algae blooms, for example. (Mongabay.com)
Smallfood, a Canadian microbial fermentation ingredients startup, claims that it's about to change the alternative seafood sector thanks to a whole food ingredient it has developed.
Bright Tide announced their 2022 Ocean Cohort for their Blue Economy Ocean Accelerator Programme. This list features 12 ventures working across the blue economy sector, including:

Biome Algae Limited
Urchinomics
SafetyNet Technologies
Earth Intelligence
Woolly Rock Rose JV
HydroSurv
Sea Ranger Service
Beach Collective
BlueTrace
Sea Green
ARC Marine
Kelp Blue Biotech
Tweets of the week
An algae bloom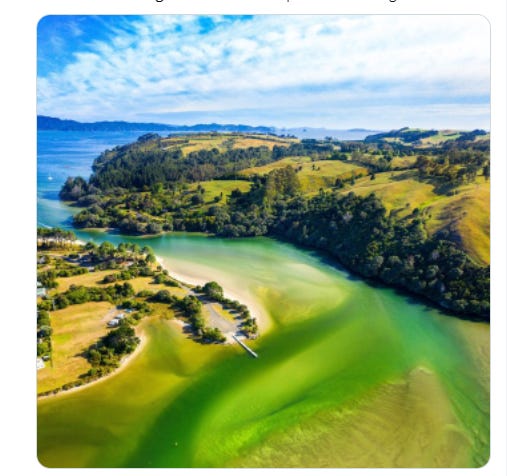 9. In partnership with Australian company Sea Forest, Fonterra is looking at the potential Asparagopsis seaweed has in reducing methane in a grass-fed farming system. (dairyreporter.com)
10. Six months ago, micro-algae protein pioneer Sophie's Bionutrients decided to move its Singapore headquarters to the global alt-protein hotspot "Food Valley" in The Netherlands. Since then, the biotech scaleup found specialized production partners, has completed its C-level suite with Dutch talent, identified specialist support in various areas, is signing commercial agreements and and is on the verge of closing the next round of fund raising. What enabled this very speedy 'landing'? (Read more HERE)
11. (Paper) Phenotyping technology for assessing protein content in seaweed by field spectroscopy and a machine learning algorithm (bioRxiv.com)
12. (Paper) Cnidarian-Symbiodiniaceae symbiosis establishment is independent of photosynthesis (Current Biology)
Jobs
Jobs this week included:
🌱 Uluu hiring for Bioprocess Engineers and Technicians (location: Australia)
🌿 Provectus Algae hiring (location: Australia)
💻 Oregon State University hiring Research Assistants (location US)
TECHNISCHE UNIVERSITAT DRESDEN hiring Research Associate (location Germany)
Find out more here.
That's all folks!
Thanks again for joining us this week. Hope you have a great day and stay tuned for more algae tech updates soon!
Peter